How Pi Chi Has Affected Me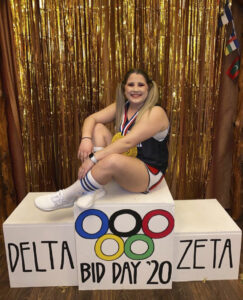 By Rachel Beckett, Pi Chi-Western Kentucky
I joined Delta Zeta my spring semester of my freshman year. Looking back at my fall semester, I remember how scared and lonely that girl was. I knew how outgoing I was but really struggled to make connections with others. I longed for a place to feel like home. I wanted a sisterhood where my sisters would lift me up and constantly support me. I got caught up in the status of what being in a sorority could bring me, so I wanted to make a good impression. I talked to different organizations, but I never was truly myself. I was constantly putting on a face and trying to it into each place I went. It wasn't till I came to Delta Zeta that I was finally comfortable enough to drop the mask and be myself. I felt so connected to the sisterhood and trusted myself and the connections I made with everyone I talked to. I am so glad that I followed my heart because it led me to the right place. It led me to Pi Chi, where I can be myself. I can show my silly side and where I can experiment with makeup, and know my sisters will empower me to express myself. These people were interested in getting to know the real me, and I have not hidden her since I joined.
This year I have been through a lot, and my sisters have shown me so much compassion. I have gone through my parents divorcing and my family home getting destroyed by the tornados that came through Kentucky in December. My mother and two little sisters were stuck in the rubble of our house, getting rained on for over five hours. While I remained in Bowling Green, KY, safe, I couldn't help but feel helpless and more distraught by the hour. I kept calling my grandmother, who was trying to find friends to go over there and see if they could get to them. Luckily, around two in the morning, EMS came and got them and one of our animals. I really struggled with having compassion for myself. I blamed myself for the longest time for the fact that I was not there. I wasn't able to protect my family, and quickly my mental health became so low it was hard for me to find joy in even the little things.
Even though I was struggling, my sisters had completely overwhelmed me with how much support they had given me. My sisters' love reminded me of why I joined in the first place. My sisters raised monetary donations and items for my family. They made sure that my younger sisters got to celebrate Christmas with presents and decorations. The amount of love I felt for my sisters for their selflessness towards me and my family will be something I will never forget. I have had so many wonderful sisters impact my life and have shown me true love and acceptance. The fact that they were so willing to help me and my family in any way they could still bring me to tears every now and then. I cannot thank Delta Zeta enough for giving me the opportunity to meet such amazing women. I cannot imagine where I would be in life without my sisters. I only hope to bring as much light into their lives as they have brought into mine.