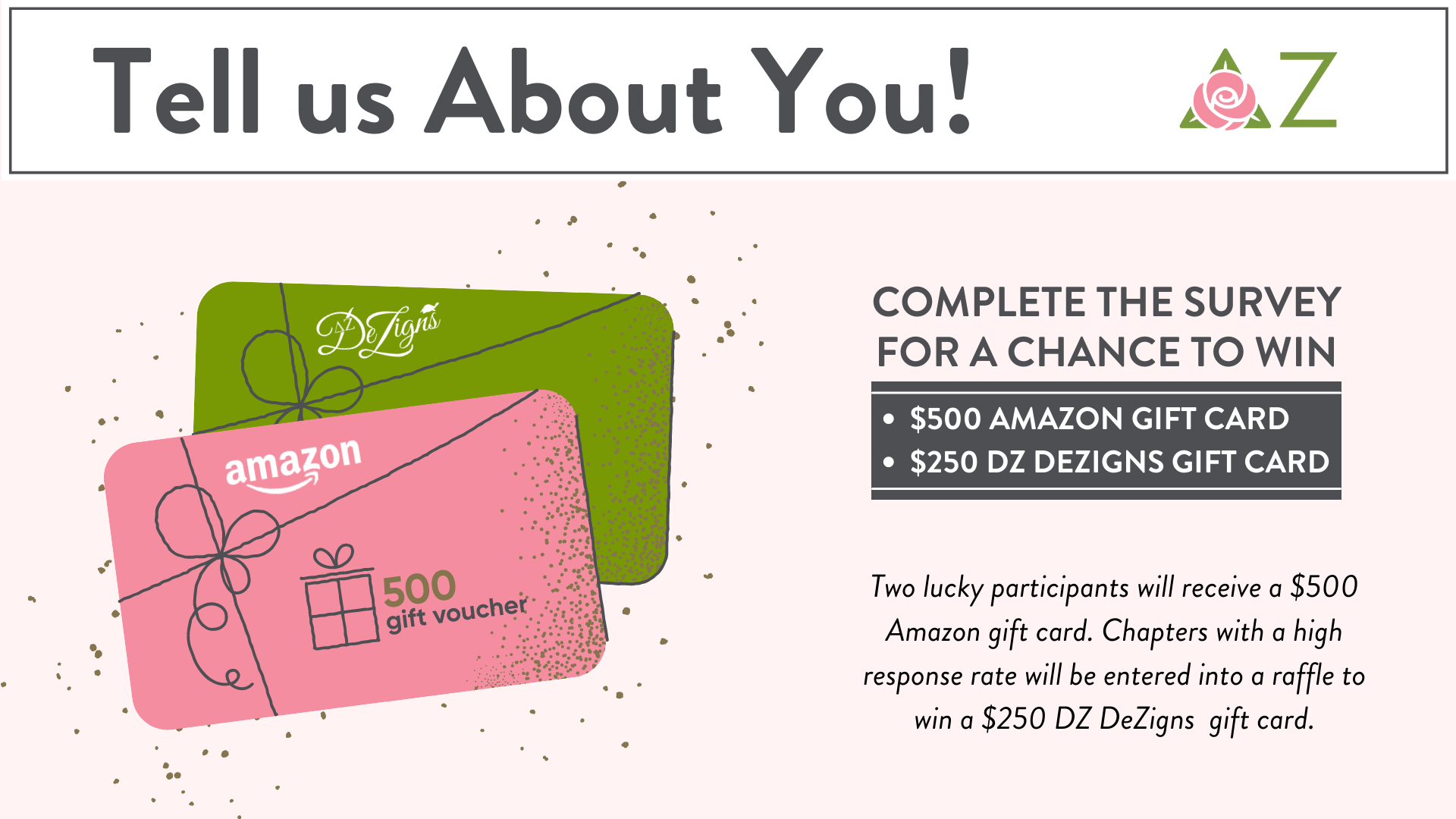 Delta Zeta Launches Collegiate Membership Experience Survey
To ensure that we continue to offer a meaningful experience for current collegiate members as well as future sisters, we want to hear directly from our current collegians about their Delta Zeta experience including perceptions, attitudes and impact of being a Delta Zeta sister. Your feedback will help ensure we fulfill our vision of a global woman's organization whose shared values truly inspire action and impact lives.
Delta Zeta is partnering with the Timothy J. Piazza Center for Fraternity/Sorority Research and Reform at Pennsylvania State University to offer the Fraternity/Sorority Experience Survey to members across the country.
What should you expect?
On Tuesday, March 22, all collegiate sisters will receive an email from the Timothy J. Piazza Center. The email will include a link to begin the survey. The survey will close on May 3 at 11:59 p.m. EST. The survey administration, including the launch email and reminders, will come from the Piazza Center.
The survey should take approximately 10-15 minutes to complete.
What topics will the survey cover?
The fraternity/sorority experience survey provides insight about academic experiences, values, alcohol and drug use, social issues, bystander intervention, chapter operations and community found in the common fraternity/sorority experience. It will also ask some questions specific to Delta Zeta, our operations and planning for our future.
How will sorority use the information collected?
The data collected from this survey will give the National Organization a more accurate and clear depiction of the membership experience Delta Zeta provides to its collegiate members, as well as the membership experience desired by our members. This data will help us to improve the resources, education and services we provide across the organization. Member responses will be completely anonymous.
This survey will be crucial to creating the next era of the Delta Zeta collegiate experience, and we hope you will encourage your fellow sisters to use their strong voices in shaping Delta Zeta.
Participation prizes!
A high percentage of participation across our undergraduate membership is vital. The Sorority is pleased to offer two different incentives for our members. First, high response rate chapters will be entered into a raffle to win a $250 DZ DeZigns gift card. One chapter, from each of the four Diamond Standards Awards of Excellence chapter size categories, will be selected to win the gift card.
Additionally, all sisters who complete the survey and enter their name on a separate entry form will be eligible to win one of two $500 Amazon gift cards!
I did not receive the email. What should I do?
The email with the personalized link for each undergraduate member will be sent to the email they have on record at Delta Zeta (as of March 18, 2022). Please be sure to check your spam folder. The survey will come from the Piazza Center and the survey platform, Qualtrics. If you still have questions or concerns about your email, or if you accidentally blocked the sender, please contact the Piazza Center at [email protected].
Reminder emails will be sent weekly to those who have not yet completed the survey.