Featured House: Omicron Gamma - Ohio University
The Delta Zeta House: A Home Across Generations
By: Maggie Old, Omicron Gamma-Ohio, Digital Communications Intern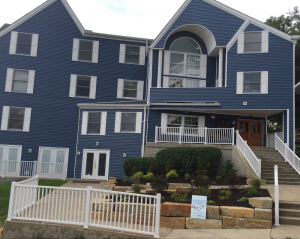 When you think of "home," where does your mind take you? A person? A place? For Delta Zetas, their chapter houses and suites become "home" to them, and for more than just the physical location.
Madison King and her mother, Janice Floyd King, share the same home in Delta Zeta, the Omicron Gamma Chapter at Ohio University. To chapter members, the house is better known as "Big Blue" or "55", for the house's address on Mill Street in Athens, Ohio.
In 1989, Janice was a founding member of the chapter. Within two years, Delta Zeta finalized plans for a new four-story chapter house, designed to be a home away from home for members! The house was completed and ready for occupancy in 1994. The house was built to be a place for all past, present and future generations of Delta Zetas. One of those future members was Janice's daughter, Madison.
Madison joined the chapter in 2019. Her mom was at her Initiation Ceremony and shared in that special moment. "I wish I could fully express how much it meant to me to have my mom at my Initiation. I was overwhelmed with emotion because I knew how much DZ meant to her. It brought the two of us closer, and I know she was so proud to see the current collegiate women and to visit the house," Madison said. She was able to experience the sisterhood that her mom and now sister helped build, both as a structure and as an organization. Madison said, "I remember the first time I saw the chapter house. My mom couldn't stop crying. When I walked through the doors, I was instantly welcomed."
Both Gloria Van Reeth, the current House Director, and active members today take care of the property to always be ready and welcoming. Of all the chapter houses on Ohio University's campus, Delta Zeta's is also the most accessible. With ramps, appropriate doorframes, accessible bathrooms and bedrooms and an elevator, the Omicron Gamma Chapter house is a modern structure that allows anyone with a physical disability to access it easily.
You will feel the sisterhood as soon as you step through the doors of "Big Blue." The hallways and stairwells are lined with composites, awards and certificates, pictures of sisters throughout the years, and so much more. This connects members across decades who have lived there, whether in 1994 or 2021. It reassures members that their friendships will not end at graduation but instead last a lifetime. The women who have, and will continue to, live in the chapter house will share memories, laughs and experiences that will last them a lifetime.
"When I met the women of DZ, I knew this was exactly where I needed to be. They accept you for who you are, and they don't turn you away. I have never met a more genuine group of women, and now they're with me forever." Madison explained.
Janice shared her experience as a founding member "I remember when Delta Zeta was chosen and how exciting it was to become a member. I instantly met amazing women that became lifelong friends. I learned a lot about commitment, sisterhood and what it means to have over fifty ladies who you can count on." She shared her experience with the chapter house as well, saying, "I think having a dedicated space like a house to recruit, have chapter meetings and hang out would provide any sorority sister a more meaningful experience. It's hard to put into words what I felt when Madison joined Delta Zeta. It brings a joyful tear to my eye."
Looking at a sketch of the future house in 1991, it might look like a simple drawing of an attractive building. But the women who helped lay the foundation for the Omicron Gamma Chapter knew that it was so much more. They developed a home away from home. The memories and experiences sisters have together show the strong bond of sisterhood that can be created through a shared home, or space, and a shared sisterhood.