Truly Connected: Philadelphia, where sisterhood and professional development meet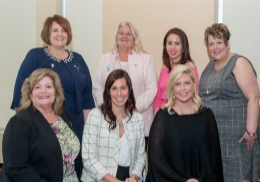 More than 70 Delta Zeta collegians and alumnae gathered at Sky Philadelphia on October 6, 2018 for Truly Connected: Philadelphia. This event brought sisters from around the country together for professional development and sisterhood, to learn from one another and create networking opportunities.
Blakley Schwope and Cynthia Reyes, both collegiate members of the Delta Theta Chapter, University of Houston, traveled all the way from Texas to Philadelphia to participate in this signature event.
"I had heard what an amazing experience it is from sisters who attended previous Truly Connected events," said Blakley. "I wanted to go for the opportunity to meet Delta Zetas from different chapters along with alumnae from all around the U.S."
Blakely and Cynthia had the opportunity to learn from Keynote Speaker, Jennifer Yohe Wagner, Lambda Epsilon, University of Pittsburgh/Johnstown, who serves as the Senior Vice President, Procurement for Comcast in Philadelphia. She reminded Truly Connected participants that if you do not risk anything, you risk even more, and to be better today than you were yesterday.
Cynthia, a senior getting ready to graduate in May 2019, said that Jennifer reminded her that change is good. Getting closer and closer to "the real world," she felt the Truly Connected experience would help prepare her by making connections to Delta Zetas who are already in their careers.
"[Jennifer] opened my eyes in terms of how important it is to pay attention to where you are," Cynthia said. "We need to realize this to make changes in order to move up in our life or career."
Blakley added about Jennifer's keynote, "We need to take advantage of Delta Zeta – our sisters all over the U.S. doing amazing things. I have access to them and need to reach out for help and to work towards my goals."
Both Blakley and Cynthia valued the opportunity to learn about their personal brand, which was discussed during the breakout sessions, an opportunity for members to participate in small group discussions around a particular career topic.
"I have always known how important it is to be true to ourselves, but when discussing our personal and professional brands, I learned how valuable it is to not forget about who you are," Cynthia said. "You should remain true to your profession and the reflection you give of it."
Blakley combined those conversations with information she learned from the Alumnae of Achievement Panel Discussion.
"My voice of character, context, clarity, curiosity and connection are all things I can use to help build my own personal brand and become successful," she said.
The Alumnae of Achievement Panel was composed of Jennifer Wagner; Nathaly Davila, Pi Theta, Rollins College; Jennifer Galle, Delta Sigma, Truman State University; and Christina Edwards, Beta Delta, University of South Carolina, and proved to be a highlight of the day.
Both Blakley and Cynthia benefited from Delta Zeta donors giving graciously, ensuring events like Truly Connected: Philadelphia provide lifelong education and learning for Delta Zetas at all stages of their personal and professional lives.
"One of my biggest ah-ha moments was to never stop learning," Blakley said. "If there is an opportunity to learn something, I need to take it. Even if I don't think it is relevant or going to help, learning is always beneficial. Never stop improving."