Delta Zeta Names Mary E. Waterman Chief Member Engagement Officer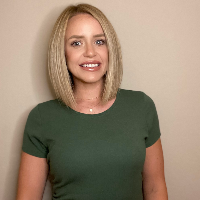 (Oxford, OH) Delta Zeta Sorority invests in and promotes engagement opportunities for the advancement of friendship, member engagement, chapter association, networking, personal growth and volunteerism initiatives to enhance the membership experience, celebrate member achievement and build community spirit. Effective January 1, 2022, we are pleased to announce that Mary E. Waterman, Gamma Omicron, San Diego State University, has been named Chief Member Engagement Officer to oversee the development and implementation of engagement programs and activities.
In this new role, Mary will lead a team of volunteers and staff to assure Delta Zeta's strategic goals are aligned for the Sorority and Foundation's friendraising and development initiatives.
Mary served as Associate Director of Chapter Services for Delta Zeta Sorority from 2015 to 2017, Director of Chapter Services from 2017 to 2018, Director of Member Engagement from 2018 to 2019 and most recently as Director of Advancement for the Delta Zeta Foundation since 2019. Mary started her Delta Zeta career as an Educational Leadership Consultant following her graduation from San Diego State University in 2012.
"Mary's enthusiasm and passion for the betterment of the Delta Zeta experience is evident in any role she serves," said Christy Phillips-Brown, National President. "We are excited to have Mary in this new role to help achieve our goals to increase member engagement and connection and volunteer opportunities."
Mary graduated from San Diego State University with a B.S. in Criminal Justice and a minor in International Security and Conflict Resolution. She has also completed a Master of Science in Organizational Leadership at Colorado State University Global.
"We are fortunate to have a talented individual such as Mary as a part of our Delta Zeta team," shared Cindy Menges, Executive Director. "This is truly an exciting time for Delta Zeta as we work to advance our commitment to empower and celebrate our membership on local, regional and inter/national levels."
Delta Zeta Sorority is a global women's organization whose shared values support a vision to truly inspire action and impact lives through leadership, service and philanthropy. Founded on Miami University's campus in Oxford, Ohio in 1902, the Sorority has more than 283,000 alumnae and collegiate members in the United States and Canada. The Delta Zeta Foundation, a non-profit organization, makes possible gifts and support for scholarships, leadership, philanthropy and education. Learn more about our mission at deltazeta.org. For more information about the Delta Zeta Foundation, visit deltazeta.org/foundation.
For further information, please contact Cindy Menges, Executive Director, Delta Zeta Sorority National Headquarters, 202 East Church Street, Oxford, OH  45056, (513) 523-7597, [email protected].
###