I'm graduating … now what?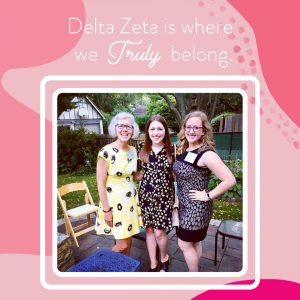 Staying involved with Delta Zeta after graduation can look different for many members. It doesn't always mean volunteering to work with a collegiate chapter as an advisor or CCD.  Staying engaged with Delta Zeta means staying connected with the women who we built bonds with during our collegiate years while continuing to represent our shared values in every aspect of life. The Delta Zeta journey continues after leaving campus simply by getting together with our sisters for dinner on the weekend, heading back to campus to support a philanthropy event, planning a trip for a girls weekend and continues by celebrating the milestone of life together.
For others looking to expand their Delta Zeta connections, they may join one of our many alumnae chapters. Alumnae chapters are a great way to meet new sisters wherever you may be in the world. They unite us and emphasizes that our memberships truly are for life by allowing us to continue and grow some of the experiences we had with our collegiate chapter. There is something so special about moving to a new city, state or even country and knowing you are just steps or clicks away from women who share your same values.
With each step we take in life, our paths may unexpectedly change. New jobs, moves, marriage and children. No matter what happens in life, we all know we can count on our sisters to be there for us. One way we can be there for each other is by simply updating our contact information with Delta Zeta National Headquarters. By doing so we each receive updates on events happening, exciting news and allow sisters who may have fallen out of touch a way to re-connect with us through the "Find a Sister" feature on the Delta Zeta app. For more information about Alumnae Membership click here!