MEMBER SPOTLIGHT: EMMABELLA RUDD
August 19, 2021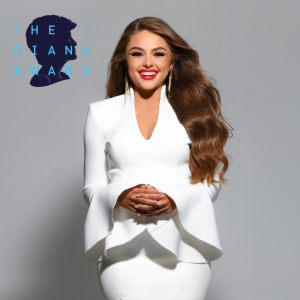 August 19 is World Humanitarian Day and we are thrilled to introduce you to one Delta Zeta collegiate member whose love for change and inspiration never cease to end. Meet Emmabella Rudd, Alpha Sigma, Florida State University.
Earlier this summer Emmabella was awarded the Dianna Award. Established in memory of the late Princess of Wales, this award is the most prestigious accolade a young person can achieve for social action or humanitarian efforts. Emmabella was recognized for her work on behalf of causes related to Type 1 diabetes, which she was diagnosed with at age 5. Since her diagnosis she has volunteered countless hours for the Juvenile Diabetes Research Foundation, advocated to her legislators for a change in insulin policy and most recently become an active advocate for T1International and JDRF International, whose missions are to lower insulin prices for all.
In light of what would have been Princess Diana's 60th birthday, Emmabella and the other Diana Award recipients had the honor to hear from the Duke of Sussex, Prince Harry, during the awards ceremony where he shared impactful words regarding his mother's legacy and the appreciation of the work accomplished by this years' award recipients.
Read on to find out what receiving the Diana Award means to Emmabella, what she wants her Delta Zeta sisters to know and more!
What does receiving the Diana award mean to you? 
Receiving the Diana Award gives me a push to keep going and to keep advocating. To me, it is not only a personal accomplishment but a win for the entire diabetes community. The work that is being put forward by diabetes advocates everywhere is being seen and heard, and truly these little steps towards access and affordability show us that we are headed in the right direction.
What do Delta Zeta's shared values of generosity and community mean to you? How do they relate to or impact your work fighting Type 1 diabetes? 
Generosity and community, in my eyes, have always been intersectional. Oftentimes, we find our identities and lived experiences to be ones we never wished to welcome into our lives. In the diabetes community we often say that this is the club that you never wanted to be a part of – but here we all [people with diabetes] are. When I was diagnosed I had a choice – I could absorb all I was experiencing and let it engulf me or allow for myself to enter this community.
I chose to become a part of it, and, quite frankly, it was the best decision I ever made.
It is up to us as individuals to choose to establish communities surrounding our identities and experiences. It is also in our hands on whether we choose generosity to rule these same spaces. This same generosity we find in these community spaces is what fuels our fire when we choose to make change for the better. This generosity paid forward by others inspired me to stand up for lowering insulin prices, to speak to Congress and to fundraise for a cure to my disease. This generosity from my communities has led me to where I am today.
How do your Delta Zeta sisters show you support? 
My Alpha Sigma Chapter sisters are unconditionally loving and supportive through all I do and they also are my safe haven when things become difficult. While advocacy work and activism are wholeheartedly my passion, it does come with challenges, stress and burnout. They encourage me to not only keep going, but to focus on my own self-care, my mental health and to enjoy the things I love beyond the work that I do.
What do you want Delta Zeta sisters to know about your story?
I want my fellow Delta Zeta sisters to know that they all have what it takes to make sustainable change, and it all beings with finding their passion through community engagement—whether it is a non-profit, an organization, or a movement, to name just a few. And advocacy and fundraising are just one way to make change. The social change wheel by Minnesota Campus Compact is an amazing resource to begin your journey on brainstorming what sustainable impact you can have on your community by utilizing your strengths and interests.
Want to share your Delta Zeta story? Email your story to [email protected]