The Journey of a Lifetime
May 21, 2021
Written by: Madison Brzozowski, Kappa Rho-Kutztown University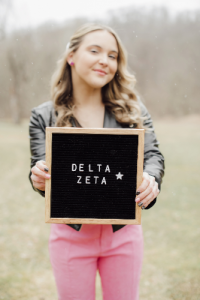 My mom was diagnosed with an Acoustic Neuroma when I was in high school, which is a tumor that develops on the balance (vestibular) and hearing, or auditory (cochlear) nerves leading from the inner ear to the brain. My mom went through a major brain surgery which was completed through her ear, and this caused her to become deaf in her right ear. This surgery had a major impact on my mom and my family, leaving her with severe migraines and pain. I eventually discovered American Sign Language (ASL) and knew that I wanted to learn it to educate myself and advocate for the hard of hearing and deaf community. I spent several months learning ASL, and it is something I have become extremely passionate about.  
As a freshman at Kutztown University in August of 2018, I was more than excited to make friends of a lifetime, because that is what everyone says about college. I found friends on my floor that I could see myself truly connecting with, and it was an incredible feeling. Those friends one day told me that they were going out for recruitment, and I simply was very confused. I didn't understand exactly what that meant, or even what a sorority was. My friends explained it to me, and even gave me a pamphlet to see what it was about. Instantly, I knew that was exactly what I wanted, but I didn't know how to go about it. Who do I contact? How many sororities are there? Is this too sudden? I called my mom and told her about it, and recruitment was starting the next day. She of course had a lot of questions that I didn't know the answer to, and we both decided that I should wait for the following year to go out for recruitment and spend my freshmen year working on myself and my academics. Although I did that, I completely regret not going out for recruitment. I watched my friends have the time of their lives making new friends and being a part of something bigger than themselves, and I sat back, observed, and counted down the days until it was finally my turn. 
In September 2019, my roommates and I all went out for recruitment together with open minds, excited for what was to come. Day 1, my nerves kicked in, but I knew that this was exactly what I wanted in my life. I wanted something to motivate me, to allow me to continue being a leader, and to grow. I talked to every sorority for five minutes each, and I couldn't get the smile off of my face. Every philanthropy sounded so great, and the connections seemed real and genuine. When I met Delta Zeta, I genuinely fell in love with every aspect of it. Day 2, I couldn't wait to get back and talk to more members. I stayed up all night visualizing myself being involved in a sorority, and it was the greatest feeling. Philanthropy round, I learned more about Delta Zeta's philanthropy, hearing and speech, I knew Delta Zeta was for me. When I started at Kutztown, I noticed they had a sign language club, and I was eager to join. I attended every meeting, and actively participated as well. And now, I was able to connect my need for close friendships with my personal passion for hearing and speech through Delta Zeta. 
I genuinely created an amazing connection with the members I talked to, and I was interested in every aspect of Delta Zeta. Preference round, I felt the bond these members had, and it was an extremely emotional night. I felt at home with Delta Zeta, and I couldn't have been any happier. Finally, bid day came around and I opened my bid day card and read Delta Zeta. I was so shocked, so happy, and felt so many emotions. I knew that this is what I wanted to dedicate my time to while in Kutztown, and I am beyond lucky to be a member of this chapter. 
Want to share your DZ Journey? Email your story to [email protected]