Delta Zeta Foundation Chief Advancement Officer Alicia Favata Earns Certified Fundraising Professional Credential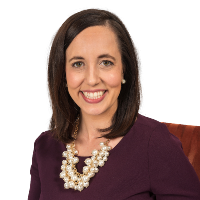 (Oxford, OH) Delta Zeta is pleased to announce that Alicia Favata, Pi Beta, University of Hartford, has been named a Certified Fund Raising Executive (CFRE). Alicia, Chief Advancement Officer for Delta Zeta Foundation joins over 7,200 professionals around the world who hold the CFRE designation. Alicia has been the Chief Advancement Officer for the Delta Zeta Foundation since 2019. She joined Delta Zeta's professional staff in 2015 as the Director of Alumnae Engagement.
"Delta Zeta is so proud to have professionals like Alicia serving our sisterhood," says Cindy Menges, Executive Director. "Alicia works to advance the mission of the Sorority with her work on behalf of the Foundation. Earning this designation shows her commitment to her profession and to Delta Zeta."
Individuals granted the CFRE credential have met a series of standards set by CFRE International which include tenure in the profession, education, and demonstrated fundraising achievement. They have also passed a rigorous written examination testing the knowledge, skills and abilities required of a fundraising executive and have agreed to uphold Accountability Standards and the Donor Bill of Rights.
"The CFRE credential was created to identify, for the public and employers, those individuals who possess the knowledge, skills and commitment to perform fundraising duties in an effective and ethical manner," states CFRE International President and CEO Eva E. Aldrich, Ph.D., CAE, (CFRE 2001-2016). "As the certification is a voluntary achievement, the CFRE certification demonstrates a high level of commitment on the part of Alicia to the fundraising profession and the donors who are served."
CFRE recipients are awarded certification for a three-year period. To maintain certification status, certificants must demonstrate ongoing fundraising employment and fundraising results and continue with their professional education. Employers and donors who work with CFREs know they are getting a professional who is committed to the best outcomes for their organization and has the requisite knowledge and skills.
Since 1981, CFRE has set standards for fundraising professionals. As the only globally recognized fundraising certification, CFRE indicates professionalism, confidence and ethics. It is how today's fundraiser shows accountability, service and commitment to making a difference for good. The CFRE certification program is accredited by the American National Standards Institute and is the only accredited certification for fundraising professionals. For more information please visit www.cfre.org.
Delta Zeta Sorority is a global women's organization whose shared values support a vision to truly inspire action and impact lives through leadership, service and philanthropy. Founded on Miami University's campus in Oxford, Ohio in 1902, the Sorority has more than 280,000 alumnae and collegiate members in the United States and Canada. The Delta Zeta Foundation, a non-profit organization, makes possible gifts and support for scholarships, leadership, philanthropy and education. Learn more about our mission at deltazeta.org. For more information about the Delta Zeta Foundation, visit www.deltazeta.org/foundation.
For further information, please contact Cindy Menges, Executive Director, Delta Zeta Sorority National Headquarters, 202 East Church Street, Oxford, OH 45056, (513) 523-7597 or [email protected].
###