Giving Graciously to My Sisters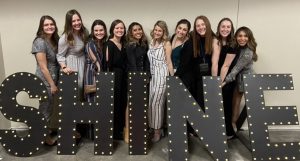 January 22, 2021
Written by: Raenee Patterson, Delta Omega – Fort Hays State University  
I grew up listening to my mom and aunt tell stories about their time as Delta Zetas. I remember them running into their sorority sisters at events when I was in high school, and having to drive by the house each time we visited campus. I saw how excited they got when they had a chance to attend a reunion or met other Delta Zeta's. I saw what a sisterhood should be, and then I experienced it. In the fall of 2016 I followed the footsteps set before me and joined the Delta Omega chapter at Fort Hays State University.  
When I joined the chapter, I could not imagine what the next four years would hold. I can't pinpoint one moment that made me realize how much this sorority means to me. Instead I think of my sisters, each of their faces and the memories I have with them. I think about my freshman year when we were supposed to go on a camping retreat at the end of April. However, a very late snow storm blew in and we ended up "camping" at our house. We went on a scavenger hunt, ordered pizza and had a fort making contest. I remember trying to schedule classes with my sisters, and always having someone to walk to campus with. I remember how much fun we had during Greek Week, and how our competitive nature always came out.  
Yes, my time in the sorority was filled with hundreds and hundreds of happy memories with my sisters and Greek community. But my sisters were always there with me when times were tough as well. When I was struggling to feel confident as President, my sisters reminded me I was in that position for a reason, and that they knew I'd do the right thing. When I needed someone to talk through a problem with, I knew there would always be someone in the living room who would listen. When 2020 came and took away our normal I had sisters to FaceTime, Zoom and even some who wrote me letters.  
No matter what happened, I knew, and still know, my sisters are with me. We may not be living in the same house, or even the same city, but they are only a text or phone call away. I realized this sisterhood means so much to me because it gave me sisters who have impacted me in every way.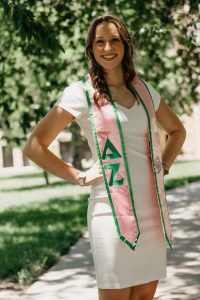 When I think of the impact we each leave on our sisters and chapters, I think of our shared value of generosity. If none of us were willing to give of our time, energy, support and love then we would not have a sisterhood. Instead, I see women who give of themselves in every way they can to better their sisters, college campuses, communities and the world. I think of sisters who were always generous to give me a ride to campus when it was cold, help me study for an upcoming exam, or who were willing to do whatever they could to help me accomplish a goal. There are also the intangible gifts of confidence, acceptance, and understanding that made me feel comfortable in my own skin and welcome within my chapter. I can't even begin to thank my sisters for how they have helped me grow over the last four years. I can only hope to leave the same legacy of generosity and sisterhood like my sisters before me.   
As I begin my journey as an alumnae I want to continue to be generous, not only to my sisters, but to the world around me. I look forward to continuing to share my life experiences and knowledge with my sisters while supporting them along the way. I hope that my sisters in my chapter, and everywhere, never forget how others generosity has changed our lives. I challenge myself and others to find ways each day to give to those around us. Delta Zeta has taught us what it means to give ourselves to a sisterhood, but now it is time to give ourselves to the world.  
Want to share your DZ Journey? Email your story to [email protected]