Love that is Ever Steadfast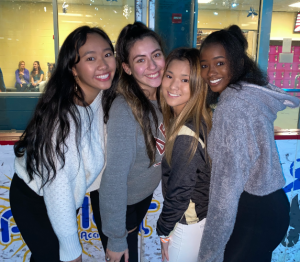 November 16, 2020
Written by: Gema Sanchez, Pi Xi – University of Central Florida 
I wouldn't call my college experience typical. When I graduated from high school in Miami, FL, I simultaneously received my Associates degree. Wanting to experience life outside of Miami, I knew that Orlando was where I wanted to spend my last two years as an undergraduate.  
My first year at the University of Central Florida, I commuted. I never really spent time lingering after class to talk to peers. I went to class, did my homework and even when joining school clubs, I did not find myself connecting with anyone. It didn't come as a surprise to me because in high school I only had a close group of friends that I interacted with. However, it wasn't until I met Valentina – a member of the Panhellenic community who also held a position in Student government – that I began to consider joining Greek life.  
That summer, I did research on the different chapters at UCF and experiences that others had while going through recruitment. I began to question my expectations for the upcoming year. Although a broad plan, I knew I wanted to make the most out of my senior year in good company. Therefore, I decided to participate in formal recruitment. 
Going through recruitment week, I felt more and more inclined towards Delta Zeta each day. There was something about the girls that made me feel as if I was already a sister. Their interest was beyond my major and hobbies, it was about what made me, well, me. When I saw sisters that I met on previous days, they would always make sure to say hi. When Bid Day arrived, I had no doubt in my mind what my new home would be. My name is Gema Sanchez and I am a Delta Zeta from the Pi Xi chapter at the University of Central Florida. 
Throughout my Delta Zeta journey, I've realized that the term 'sisters' isn't meant as something corny, but the truth. Some of my favorite memories include my girl gang that we refer to as CEO's – Becky, Cyanne, Kharisma, Savanna and Brittney. They showed me unconditional love through good days and bad. Learning Tik Tok dances, participating in chapter events and going out were some of the things we did together. If we had events run late into the night, I was always welcome to sleepover so I didn't have to commute the next day. Even through personal hardships, they listened and made me realize the positive in the situation. 
As I pursue my Master's degree at Florida International University, I have no doubt that the friendships I made will last a lifetime. I am grateful to be involved past graduation with Delta Zeta as a Development and Special Events intern. I am also excited to see my sisters continue to participate in events and helping other girls join the sisterhood of Delta Zeta. As we all go through uncertainty in what the rest of the year holds, I will be practicing what my sisters taught me: to live in the moment and make the best out of it.  
Curiosity sparked my interest in Greek life, but I never thought that Delta Zeta would become a second home to me. If I could do it all over, I would. Pi Xi and my CEO's will always hold a special place in my heart. 
Want to share your DZ Journey? Email your story to [email protected]