A Celebration of Delta Zeta Friendship
September 14, 2020
By Rosemary Osborn Hummel, Theta-Ohio State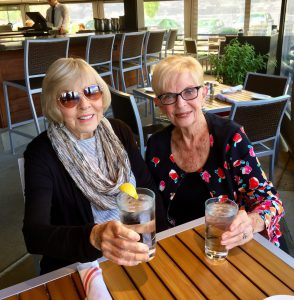 There we are –celebrating 60 years of friendship. If that's not something worth celebrating, I don't know what is! In 1959, Judy Zimmerman was pledging Delta Zeta at The Ohio State University and we lived in the same dorm. We participated in dorm activities such as hat decorating contests, Halloween festivities and sing-a-longs, but were not close friends. Both of us, however, were extroverts and had a talent for engaging others.    
Judy tried to engage me by pleading with me to join her sorority. I was from a small town of 2,000 and didn't even know sororities existed. I was working three jobs to stay afloat because my parents did not believe in girls going to college. Thankfully, Judy was not only engaging, but insistent.  She wore me down.   
Becoming a Delta Zeta gave me a home away from home.  I even learned how to correctly set a table.  At home, the knife, fork and spoon were bundled together and set by our plates. What did I know?  My secretarial skills (mastered in high school because I did not take college prep courses) prepared me for becoming a secretary my senior year. I actively participated in Delta Zeta activities and had the honor of being runner-up in the Greek Week Queen competition in the spring of '60. 
I remember Judy and I, along with a few other DZ's, wearing white capris and Hawaiian shirts while performing a mean calypso atop a hay wagon near St. John Arena during May Day festivities.  
In addition to those of us who performed in public, a few DZ's excelled behind the scenes. Gwen Wolfe was an engineering student! How unheard of was that in 1959? Gwen used her skills to design a large butterfly on the front lawn of the Delta Zeta house during May Day festivities. Its wings fluttered up and down. We proud sisters were not surprised when our house won the prize for best design.   
Another behind the scenes sister was Sis Korney, a music major, who choreographed the DZ's numbers for the annual Greek Week Song Fest. As participants, Judy and I stood with pride when the name Delta Zeta was announced winner – every year. Sis became a legend.    
The most recent memory of Delta Zeta was a function held at the house for those celebrating 50 years of membership. Judy and I were met with enthusiastic DZ's who showered us with kindness and respect. The take-away for us that day was gratitude and surprise. Gratitude for being honored and surprised to learn that these young students were now enrolled in fields of medicine, horticulture, forestry, etc. Gone were limited fields of Nursing and Teaching.   
OSU's alma mater ends with 'time and change will surely show how firm thy friendship, O-H–I-O'. To my friend, Judy, whose friendship has extended for 60 years, I say, "Cheers!" 
Want to share your DZ Journey? Email your story to [email protected].