Protect Your Shell – Delta Zeta's newest initiative surrounding mental health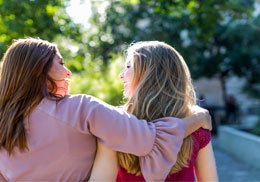 In today's ever-changing landscape of higher education, Delta Zeta continues to provide resources to our members that are timely, relevant and will keep our members safe. This fall, Delta Zeta is proud to introduce Protect Your Shell – a mental health and wellness toolbox available to all members.
The primary purpose of a turtle's shell is to protect it from predators. For Delta Zetas, "predators" may range from financial stress, to general anxiety, to relationships or how to just cope with stress overall.
Just as a turtle has a protective shell to help it maintain its function for life, we want our Delta Zeta turtles to also work on building skills and tools internally to help them protect their shells.
Protect Your Shell was designed as a direct result of our membership indicating that this was a need across the board. At the direction of the National Council, the Sorority partnered with Dr. Linda Langford, an evaluation and communication scientist. According to the National Alliance on Mental Illness, 75 percent of mental health conditions begin before the age of 24. Additionally, in 2016, the Higher Education Research Institute at UCLA completed a student survey of more than 25,000 collegiate students. Nearly 12 percent of freshman say they are frequently depressed.
"We wanted to ensure we are providing membership education to help today's college woman from a well-being perspective," said Christy Phillips-Brown, National President. "Taking care of each other is what our sisterhood is all about, so caring for yourself and others is very important."
Delta Zeta decided to use resources that already existed – with the goal to provide our members with resources to helping them to live a mentally healthy and well life.
Thanks to Delta Zeta donors, members are able to access the mental health and wellness resources from the Delta Zeta app on their phone, tablet or computer. This toolbox is designed for Delta Zetas to use as needed, both individually or as a chapter. Chapters can have healthy and honest dialogues about mental health challenges and self-coping skills as a sisterhood or a member can review the learning sessions on her own.
Nine learning sessions currently exist in the app. The topics covered include: stress and anxiety management, positivity, friend support, suicide prevention, body positivity, bullying, financial stress, sleep and self-harm. These modules can be accessed in real time to help members understand, cope and succeed in all areas of mental health and wellness.
There is limitless potential for continued development of this platform. Currently, new module development is in progress surrounding stress vs. anxiety and a number of additional topics.
Giving graciously to the Delta Zeta Foundation ensures that this education is available to all Delta Zetas. Protect Your Shell meets members where they are – and creates lifelong learning opportunities for members to better themselves during their undergraduate years and beyond.