Thank you for your interest in the nominating process. Delta Zeta is dedicated to creating leadership and volunteer experiences throughout the Sorority that are meaningful and impactful. The Sorority encourages alumnae interested in visionary, non-profit board governance to consider this opportunity! Read on to learn more about the National Council Service and Nominating Process: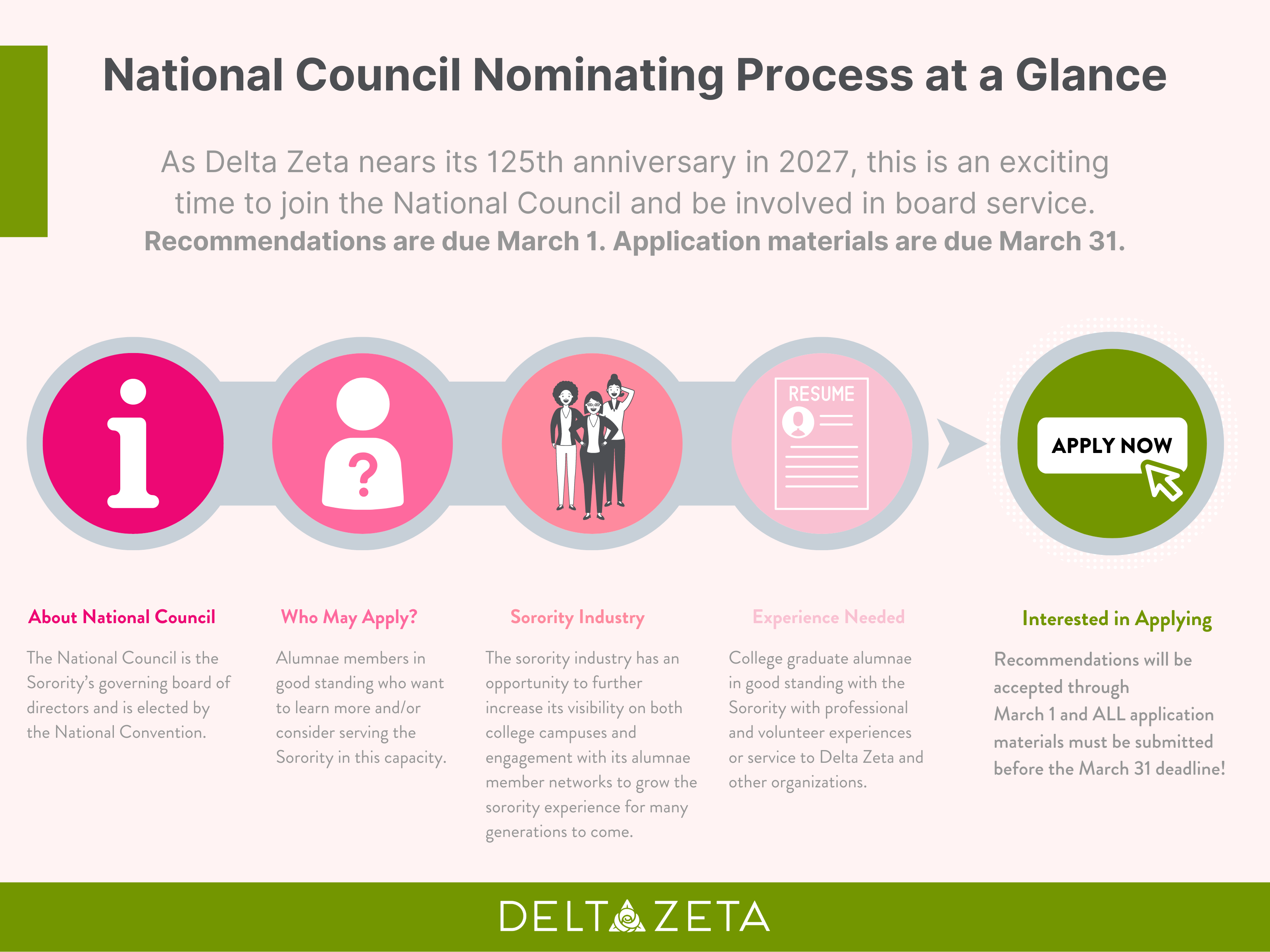 About Delta Zeta and National Council
Delta Zeta Sorority is a 501(c)(7) global women's organization whose members truly inspire action and impact lives. The National Council is the Sorority's governing board of directors and is elected by the National Convention.
Who May Apply for National Council?
The 2023 Nominating Committee is accepting recommendations from alumnae members in good standing who want to learn more and/or consider serving the Sorority in this capacity. Members in good standing may submit a self-recommendation or recommend a sister for National Council service. Recommendations will be accepted through March 1, 2023 at 11:59 p.m. Eastern. On March 2, 2023, all recommended alumnae will receive a link to the application form. All members who desire to be considered for nomination must submit all required application materials by March 31, 2023.
In addition to the standard roles and responsibilities of a board member, our National Council members are active advocates and ambassadors for the Sorority and are fully engaged in identifying and securing the volunteer and financial resources and partnerships necessary for the Sorority to advance its mission.
What is the Current State of the Sorority Industry?
The sorority industry has an opportunity to further increase its visibility on both college campuses and engagement with its alumnae member networks to grow the sorority experience for many generations to come. With fewer women going to college, there are strategic opportunities to further enhance the membership experience and grow connections that are meaningful and provide value for the member and communities we serve.
What experience is needed to apply for National Council?
"The elected officers of the National Council shall be college graduates. They shall be chosen from among the alumnae members of wide sorority, professional and volunteer experiences or service to Delta Zeta and other organizations; and shall be members in good standing. No member shall hold concurrently more than one elective office; no member shall be elected to National Council until she shall have been a member of Delta Zeta for two years; and no member shall be elected to the presidency who has not previously held a National elective office." – Constitution of the Delta Zeta Sorority, Article VI, Section 5. Election of National Officers.
What is the job description of a National Council member?
The Delta Zeta Sorority National Council comprises leaders from the nonprofit and for-profit sector who are dedicated to the organization's mission. Serving on the National Council is an extraordinary volunteer opportunity for any member who is passionate about strengthening leadership and governance not only within Delta Zeta but in the interfraternal industry at large.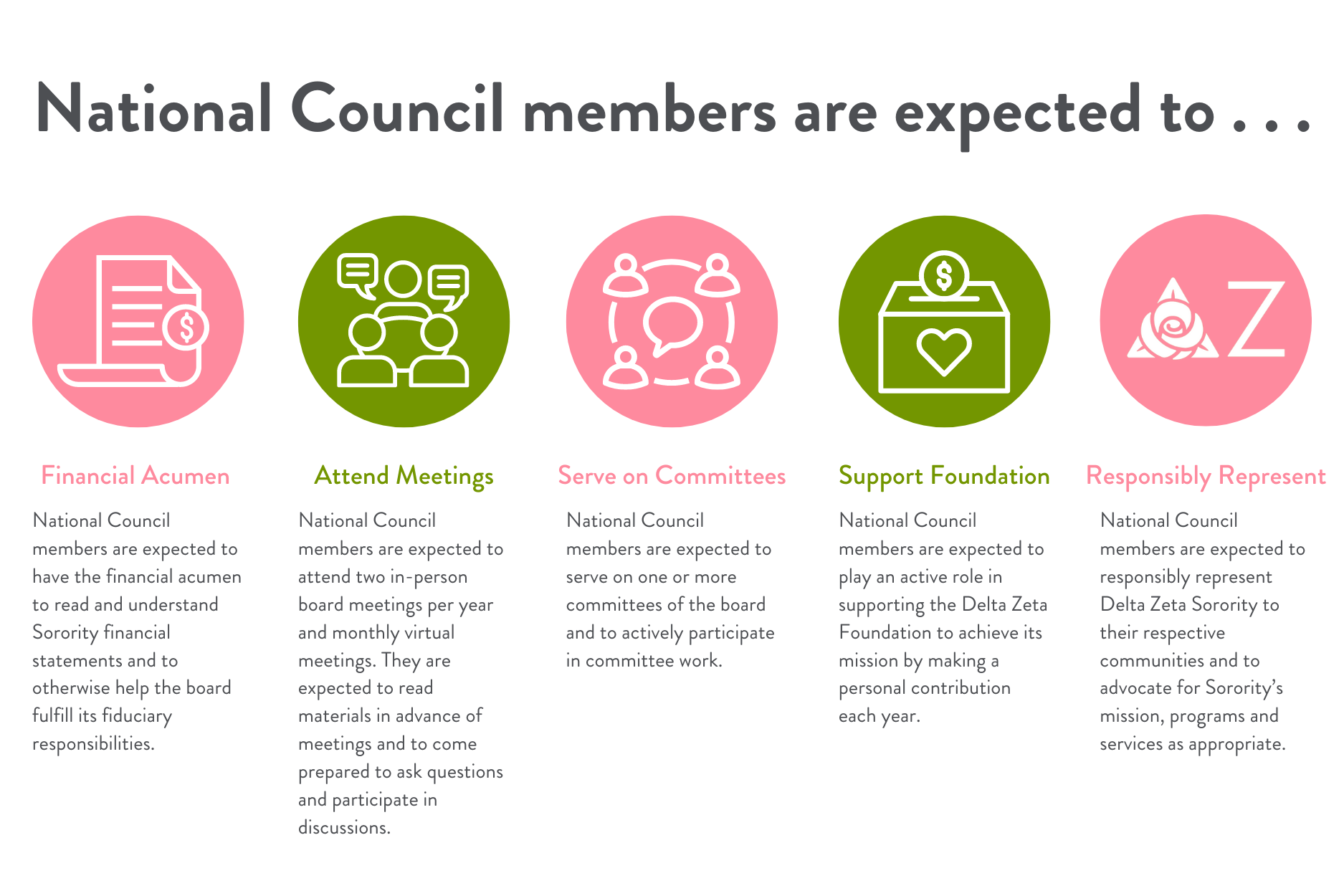 How long is service on National Council, or what is the term of the National Council position?
The term of office for all elected national officers shall be two years or until a successor has been elected and installed. "One term shall be defined as a period of two years beginning with election at one Convention and extending until the next Convention. An individual shall serve no more than twelve consecutive years on National Council whether elected or appointed without a leave of absence of one term with the exception of the Past National President. The twelve years of the National President may be extended by two years when she is completing a second term in the same position." – Constitution of Delta Zeta Sorority, Article VI, Section 7. Term.
What skills would a good National Council member possess?
Delta Zeta seeks experienced advocacy individuals who have planned and implemented advocacy strategies and campaigns to support an issue or cause. We seek board leaders to help cultivate the board's leadership role in advocacy in support of our mission, influence the campus culture and expand our reach. The ideal board candidate should have prior nonprofit board member experience or have received formal board training.
Interested in learning more?
Diane Stecher, Past National President and 2023 Nominating Committee Chairman, and Anne Marie Jones Gavin, Distinguished Past National Officer and National Constitution Chairman, will host a townhall for alumnae interested in National Council Service on Thursday, February 2, 2023 at 9:00 p.m. Eastern. Click here to register.
Additionally, a course will be made available on The Learning Center, which shares more detailed information about National Council service.