Gracious Giving from Delta Zeta Made A New Facility for The Painted Turtle a Reality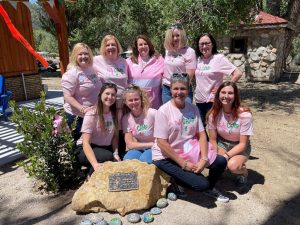 (Oxford, OH) On May 20, 2022, Delta Zeta members, volunteers and staff attended the Grand Opening of The Painted Turtle's new Staff Lounge and Welcome Center. This new facility was funded by Delta Zeta through dollars raised by members.
The Painted Turtle has been a part of Delta Zeta's history of service since 2006 when it became our National Service Project. Since then, over 900 Delta Zetas have volunteered their time at the camp. Members have provided over 67,000 hours of service and donated over $1.1 million to the organization. In the fall of 2020, Delta Zeta expanded its partnership with The Painted Turtle to include its parent organization, SeriousFun Children's Network (SeriousFun) which is made up of 30 member camps and programs around the world offering life-changing camp experiences, totally free of charge, to children, living with serious illnesses, and their families.
"We are truly honored that we have been able to support the new Staff Lounge and Welcome Center, as well as The Painted Turtle volunteer endowment and their Staff Village," said Christy Phillips-Brown, National President. "This organization holds a special place in our members' hearts, and we are excited to continue supporting The Painted Turtle through our partnership with SeriousFun. It was because of our members' love of The Painted Turtle that we expanded our partnership in 2020 to include all SeriousFun camps and programs. This gives our members, in all areas of the world, a chance to get involved. The Painted Turtle will always be our home camp and will always receive a portion of our donations to SeriousFun. We look forward to continuing our relationship here and continuing to encourage members to come experience the magic of camp.
Delta Zeta Sorority is a global women's organization whose shared values support a vision to truly inspire action and impact lives through leadership, service and philanthropy. Founded on Miami University's campus in Oxford, Ohio in 1902, the Sorority has more than 283,000 alumnae and collegiate members in the United States and Canada. The Delta Zeta Foundation, a non-profit organization, makes possible gifts and support for scholarships, leadership, philanthropy and education. Learn more about our mission at www.deltazeta.org. For more information about the Delta Zeta Foundation, visit www.deltazeta.org/foundation.  
For further information, please contact Cindy Menges, Executive Director, at Delta Zeta Sorority National Headquarters, 202 East Church Street, Oxford, OH 45056, (513) 523-7597 or [email protected].