Delta Zeta Names Kayla Ray as Director of Communications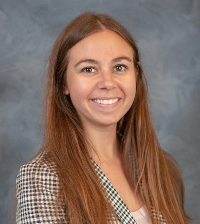 (Oxford, Ohio) Our corporate communications and marketing team is expanding! We are excited to announce the promotion of Kayla Ray, Theta Psi, Ashland University, to Director of Communications effective January 1, 2022. In this role, she will partner with volunteer leadership and staff to assure the implementation of Delta Zeta Sorority's corporate brand strategy across multiple internal and external communication platforms.
Kayla joined Delta Zeta's staff in 2018 as Communications Coordinator and most recently served as Associate Director of Communications. Kayla has been integral in creating both digital and print content for the Sorority, Foundation and National Housing Corporation. She has been instrumental in the creation and management of Delta Zeta's Digital Communications Intern program. Prior to joining Delta Zeta's staff, she was a Fund Officer for the Annual Fund with Culver Academies in Culver, Indiana.
"A picture says a thousand words, and Kayla has that special way to capture 'the story' through an artistic digital expression," said Cindy Menges, Executive Director. "We are especially fortunate to have her energy, enthusiasm and excellent writing to elevate Delta Zeta's presence and impact through communications."
Kayla graduated from Ashland University in May of 2014 with a bachelor of arts in strategic communication, public relations and sports communication and minors in marketing and speech communication.
Delta Zeta Sorority is a global women's organization whose shared values support a vision to truly inspire action and impact lives through leadership, service and philanthropy. Founded on Miami University's campus in Oxford, Ohio in 1902, the Sorority has more than 283,000 alumnae and collegiate members in the United States and Canada. The Delta Zeta Foundation, a non-profit organization, makes possible gifts and support for scholarships, leadership, philanthropy and education. Learn more about our mission at deltazeta.org. For more information about the Delta Zeta Foundation, visit deltazeta.org/foundation.
For further information, please contact Cindy Menges, Executive Director, at [email protected].