Member Spotlight: Ashlee Ammons
February 4, 2021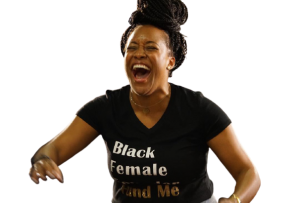 Black History Month has been celebrated in February since 1976. As we take time to reflect this month, we had a chance to chat with Ashlee Ammons, Gamma Alpha-Baldwin Wallace (OH), about not only her experience as a Delta Zeta but also about Black History Month. In 2018, Ashlee was named as a Delta Zeta's 35 Under 35 recipient for her entrepreneurial work in the field of technology. Read on to find out what Black History Month means to her as a black woman, what she wants sisters know about Black culture, an empowering moment she has had as a Delta Zeta and more!
What does Black History Month mean to you?
I live in Birmingham, Alabama, less than two hours from the plantation that my family comes from. It is not lost on me, as a Black, female, tech entrepreneur, that I am literally my ancestors' wildest dream!
Is there anything you want your Delta Zeta sisters to know about Black culture?
If you have a sister of color in your chapter, know that her choice more than likely comes with cultural consequences. For those of color interested in Greek life, the "Divine Nine," historically black fraternities and sororities, is our natural path. We are likely a legacy to those organizations (I am a triple Delta Sigma Theta legacy) and for the rest of our lives because we chose something different we will always have to justify the choice to our people. That bravery and burden should be met with your allyship, understanding and support.
How did your Delta Zeta journey begin?
In undergrad, I was a cheerleader and many of the women on my team were Delta Zetas. When I was deciding where I wanted to join, I looked into Delta Sigma Theta on my campus, but they weren't active and I wanted my Greek experience to be more than the letters. I chose DZ because that is where I felt at home, that's where my people were, and I know now that it was the right. My Gamma Alpha chapter sisters are still some of my closest friends to this day.
Can you tell us about a pivotal or empowering moment you have had as a member of Delta Zeta?
The moment nine years post-graduation that I found out I was being recognized as a Delta Zeta 35 Under 35 honoree. In a national pool of so many extraordinary women, that moment of recognition of my accomplishments was humbling.
Can you tell us about a member who has made an impact on your life?
My big. Her name is Allison and she is my person to this day.DZ has given me not only a friend but an amazing human that I've added to my forever chosen family. With the history that she and I have, she is someone who always makes me feel right at home. I haven't lived in my hometown since 2009. Every time I have the opportunity to visit, she is the person who makes me feel as if I haven't missed a beat.
How has your membership experience evolved as an alumna?
I believe in this organization. Belonging to it has shaped my life far beyond my collegiate experience. When I moved from Cleveland, Ohio to New York City after graduation, my sisters were the first to visit. When I lived in Nashville, Tennessee I hosted one sister's bachelorette party and served as a crash pad for another when a handful of sisters were stranded. When I moved to Birmingham, Alabama the local alumnae chapter connected with me quickly and brought me into the fold. In fact, it was a fellow alumna that offered me free tickets to experience my first University of Alabama game and see the beautiful DZ house on campus. In 2020, wedding (socially distant of course) allowed me to travel back to my hometown in Ohio. I had the opportunity to not only celebrate with my friends, but also see my grandmother one last time days before she passed. DZ has been with me from the moment I joined and through every chapter thereafter.
Want to share your Delta Zeta story? Email your story to [email protected].