Donor Spotlight: Deana Lewis Kaplan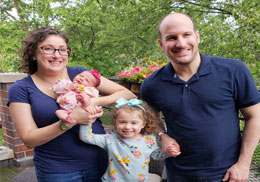 Deana Lewis Kaplan, Theta Iota – Western Carolina (NC), inadvertently supported Delta Zeta for the first time when she was Chapter President.
"While I'd like to say that it was made intentionally to support Delta Zeta, it was a bit more so made to get a dangle for my badge (that I still wear proudly today)," Deana said.
Like many undergraduates, Deana was first introduced to the Delta Zeta Foundation at a national leadership program. A donor to the Foundation since the Norma Minch Andrisek Leadership Conference in 2005, Deana is one of Delta Zeta's monthly supporters.
After graduating, Deana has stayed involved with Delta Zeta, but in different ways. She is a member of her local alumnae chapter, served on the executive board as the local Panhellenic delegate and helped restart the Panhellenic association in her area. Now, with two young children at home, her involvement looks a little different.
However, her support for the Delta Zeta Foundation has not wavered.
"I assure every sister I interact with knows that their gift does matter. Every single dollar adds up. Those smaller gifts combined can truly have the largest impact on Delta Zeta's future," Deana said. "While many may not realize it, the Foundation is the backbone of so much of the educational and leadership initiatives available to our members, from scholarships to leadership academies and programming at National Convention."
A marketing major and economics minor while at Western Carolina University, Deana began her career in advertising and sales and quickly discovered her love for helping grow support for non-profit organizations. For the past six years, she combines two of her greatest passions – serving as the Director of Communications and Direct Response for the Phi Kappa Psi Foundation, based in Indianapolis, Indiana.
Deana gives graciously because she believes in Delta Zeta. To Deana, "Empower the Woman" means lifting her up and giving her every opportunity to chase her dreams – what Delta Zeta did for her.
"My contributions to the Foundation aren't significant in size, but because I give monthly, I know that my gifts provide sustainability," Deana said.
Deana is sure her experiences in Delta Zeta have shaped her into the mother, leader, friend and philanthropist she is today.
"I joined as a shy, unsure freshman who didn't quite know who I was or what I wanted to do with my life yet," she said. "Through Delta Zeta, I met women who challenged me, supported me and inspired me. I found my voice, my strength and my determination to pursue my dreams even when they took me far from home."
Your gift to the Delta Zeta Foundation helps foster lifelong growth and learning in our sisters – just like it did for Deana. Paying it forward, donors like you and Deana provide for the future of Delta Zeta – ensuring programs and opportunities continue to keep the Delta Zeta flame burning brightly.