Norma Minch Andrisek Leadership Conference 2022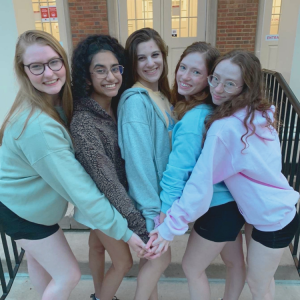 On July 14–17, more than 300 Delta Zetas gathered at Miami University (OH) for Delta Zeta's first in-person leadership conference in over two years. Named for Past National President and Order of the Laurel recipient Norma Minch Andrisek, Gamma Alpha, Baldwin-Wallace (OH), this leadership experience was the first of its kind in the fraternal world beginning in 1980 as a regional leadership conference.
Participants learned to be curious, made connections with sisters across the United States and Canada and had the privilege to walk where our Founders walked during the Heritage Tour around Miami's campus. The Heritage Tour also includes an attendee favorite, a visit to the Delta Zeta National Museum and Headquarters.
"To be at NMALC is so impactful," said Abigail Lofton, Xi Iota, Muhlenberg (PA). "It's the start of learning how to create change, the start to learning to make an impact in my chapter and learning from everyone's experiences."
Throughout the week, participants met in small groups to learn personal leadership styles and how to develop personal and chapter action plans, were inspired by keynote speakers and, of course, had sisterhood time. Through each activity, members felt empowered and ready to be stronger leaders in their chapter and in their communities.
"Delta Zeta has allowed me to explore different sides of myself and to really become a leader," said Durga Nagarajan, Pi Sigma, University of Texas/Dallas. "I used to be very shy before joining Delta Zeta . . . and, now I have more confidence and hold leadership positions."
Participants also had the opportunity to model the way for their chapter members and become members of the 1902 Loyalty Society, Delta Zeta's exclusive undergraduate giving society. More than 140 NMALC participants joined during the weekend, receiving the exclusive new turtle dangle for their badge.
"I joined the 1902 Loyalty Society because I know where all my donations are going," said Savannah Kefalas, Omicron Xi, Mars Hill (NC). "By donating, I'm helping to create an impact for my chapter and what we stand for as a Sorority."
Your generous support of the Delta Zeta Foundation created this leadership opportunity for our undergraduates – they are ready to create change and impact lives!