Chapter Presidents and College Chapter Directors Connect in New Format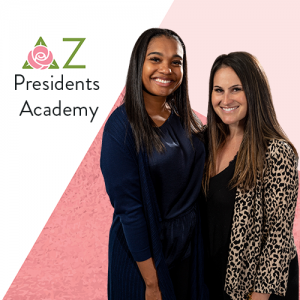 Being the Chapter President or College Chapter Director (CCD) during any year is a job of its own. During the last year, chapters have faced a new and daunting task to continue fostering sisterhood while also dealing with the effects of a worldwide pandemic. In February 2021, Delta Zeta was able to offer the first ever virtual Presidents Academy to provide leadership training and connection opportunities to Chapter Presidents and CCDs.
This two-day online event offered Chapter Presidents and CCDs the opportunity to learn from keynote speaker Hannah Gordon, Chief Administrative Officer and General Counsel of the San Francisco 49ers, and interact with Chapter Presidents from their region and across the country. All of this was possible through the new learning management system which made it easy for participants to grow and connect using an online platform. Your support of the Delta Zeta Foundation made this event, and the technology to support it, possible!
Abby Stone, Chapter President, Xi Psi, Grand Valley State University, was one of more than 350 attendees who participated in the virtual Presidents Academy.
"The virtual Presidents Academy impacted my chapter president experience by making me feel more confident," said Abby. "It was amazing to be able to connect with presidents and CCDs from chapters all over the country which created more of a sense of community."
Bri Siler Lockwood, Gamma Sigma, Eastern Michigan University, is the CCD for Pi Xi, University of Central Florida, and started her position just six months ago. She took away many tips and pieces of advice from CCDs across North America and is excited to take the ideas she learned back to her chapter officers.
Both Bri and Abby are donors to the Delta Zeta Foundation, and they both expressed that giving back allows them to empower the next generation of women.
"Without the support of other women and our organization, I wouldn't be the woman I am today," states Bri.