2021 - September Newsletter
September 2021
Truly Connected kicks off 2021 Delta Zeta Convention
Melanie S. Griffin, Alpha Sigma – Florida State University, inspired members from lessons from her own life with the reminder that life is a marathon, not a sprint. READ MORE.
1902 Loyalty Society
With record-breaking membership in the 1902 Loyalty Society, collegiate sisters show their support for the Delta Zeta Foundation by donating almost $100,000 this past year. READ MORE.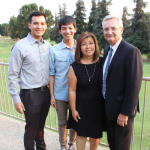 Donor Spotlight: Elaine Lee Jeffers
Foundation donor Elaine Jeffers, Theta Rho – California State University/Los Angeles, reminds Delta Zetas: "Actions speak louder than words."
Supporting the Delta Zeta Foundation is showing how important our sisterhood is to you. READ MORE.
Founders Day Challenge

Join the Delta Zeta Foundation for Founders Day Challenge (FDC), October 21-22 for one day, nine hours and two minutes of giving, kicking off at 9:00 a.m. Eastern. To sign up to be an FDC Ambassador or to learn more about Match and Challenge gifts, visit our the FDC WEBSITE!