April 2022
Diversity, Inclusion and Belonging
Delta Zeta unveils new Diversity, Inclusion and Belonging course empowering members to learn about important topics. Read More.
Donor Profile: Jenny Bogen Morrison
Jenny Bogen Morrison, Theta, The Ohio State University, has established a new Delta Zeta scholarship for Business majors! Read More.
Delta Zeta Launches Truly Connected Grow
Delta Zeta's very own networking platform, Truly Connected Grow connects members to build skills necessary for navigating a career and providing ongoing professional growth and mentoring opportunities. Funded by the Delta Zeta Foundation through your support, we invite you to join our community to share your expertise, become a mentor or find your next job!
Norma Minch Andrisek Leadership Conference returns this summer!
Delta Zeta emerging leaders will gather July 14–17 at Miami University, the birthplace of Delta Zeta, to understand relevant challenges that collegians face on today's campuses, while providing leadership and training initiatives. Named for Past National President and Order of the Laurel recipient, Norma Minch Andrisek (Gamma Alpha – Baldwin Wallace University) more than 200 Delta Zeta leaders will attend the conference made possible by your generous gift! Follow along on social media this summer to see our inspired leaders in action.
September 2021
Truly Connected kicks off 2021 Delta Zeta Convention
Melanie S. Griffin, Alpha Sigma – Florida State University, inspired members from lessons from her own life with the reminder that life is a marathon, not a sprint. Read More.
1902 Loyalty Society
With record-breaking membership in the 1902 Loyalty Society, collegiate sisters show their support for the Delta Zeta Foundation by donating almost $100,000 this past year. Read More.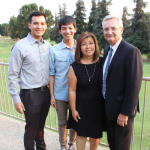 Donor Spotlight: Elaine Lee Jeffers
Foundation donor Elaine Jeffers, Theta Rho – California State University/Los Angeles, reminds Delta Zetas: "Actions speak louder than words."
Supporting the Delta Zeta Foundation is showing how important our sisterhood is to you. Read More.
Founders Day Challenge

Join the Delta Zeta Foundation for Founders Day Challenge (FDC), October 21-22 for one day, nine hours and two minutes of giving, kicking off at 9:00 a.m. Eastern. To sign up to be an FDC Ambassador or to learn more about Match and Challenge gifts, visit our the FDC website!
April 2021

Truly Connected Networking Night have record-breaking attendance
Delta Zetas build personal and professional connections through shared experiences. Read More.

Chapter Presidents and College Chapter Directors connect in new format
New opportunities to build connections for Chapter Presidents and College Chapter Directors during the 2021 Presidents Academy. Read More.

Delta Zeta's videothon in full swing!
Did you miss chatting with Delta Zeta undergraduates during our annual phonathon last year? Keep an eye out for an email from one of our collegians during our first ever Videothon!