Truly Connected Networking Nights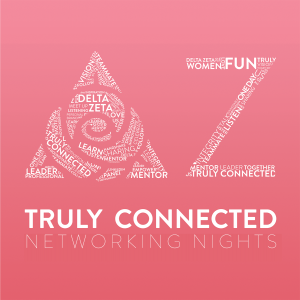 We are excited to announce the launch of Truly Connected Networking Nights, virtual networking opportunities for collegiate and alumnae members to connect. This fall, we will host two opportunities to connect and network per month – one based on a targeted professional development topic and one night based on industry. Attendees will have the opportunity to ask career-specific questions, share their experiences and expertise, and begin creating relationships with sisters of different chapters, ages and backgrounds. Truly Connected Networking Nights will take place at 8:00 p.m. Eastern, 7:00 p.m. Central, 6:00 p.m. Mountain and 5:00 p.m. Pacific. Click here to register for one or more of the fall 2020 virtual events.
Tuesday, October 13: Professional Development – Building Your Personal Board of Directors

Keynote message delivered by Barbara Poremba, Gamma Beta, University of Connecticut – National Retail Sales Vice President of CVS Health for The Coca-Cola Company.

Wednesday, October 14: Industry – Business and Finance

Alexandra Bittel Head, Beta Gamma, University of Louisville – Vice President, Wealth Management Advisor with Merrill Lynch Wealth Management
Colleen Pulsford, Epsilon Delta, Concord University – Senior Business Development Associate – GIS Specialist with Emerus
Sarah Beth Thornton, Lambda Kappa, University of Alabama/Huntsville – Business Developer with Retail Strategies

Tuesday, November 10: Professional Development – Effective Interview Preparation
Wednesday, November 11: Industry – Communications, Marketing, and Public Relations
Tuesday, December 8: Professional Development – How to Advocate for Yourself and Develop a Leadership Voice
Wednesday, December 9: Industry – STEM (Science, Technology, Engineering, and Mathematics)
Don't see your desired Professional Development topic or specific industry? Let us know by filling out this brief form.
Be sure to keep checking this page for more details about our featured speaker for each virtual event.