Truly Connected Networking Nights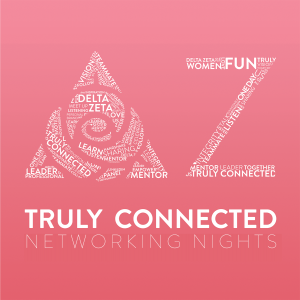 We are excited to announce the launch of Truly Connected Networking Nights, virtual networking opportunities for collegiate and alumnae members to connect. This fall, we will host two opportunities to connect and network per month – one based on a targeted professional development topic and one night based on industry. Attendees will have the opportunity to ask career-specific questions, share their experiences and expertise, and begin creating relationships with sisters of different chapters, ages and backgrounds. Truly Connected Networking Nights will take place at 8:00 p.m. Eastern, 7:00 p.m. Central, 6:00 p.m. Mountain and 5:00 p.m. Pacific. Click here to register for one or more of the spring 2021 virtual events or to view our fall 2020 virtual events.
Tuesday, March 2: Professional Development – Balancing Career, Family and Your Personal Life
Wednesday, March 3: Industry – Education
Tuesday, April 6: Professional Development – Navigating a Multigenerational Workforce
Wednesday, April 7: Industry – Law/Criminal Justice
Tuesday, May 4: Professional Development – Building and Maximizing Your Personal Brand
Don't see your desired Professional Development topic or specific industry? Let us know by filling out this brief form.
Be sure to keep checking this page for more details about our featured speaker for each virtual event.