Truly Connected LITE: NYC
Join us in New York City March 16, 2019, at the NYU Rosenthal Pavilion from 9:00 a.m. to 1:00 p.m. for a morning of networking and professional development.
Registration is open now!
Truly Connected is an exciting day of personal and professional development with the opportunity to connect with Delta Zeta alumnae and collegiate leaders to help build your network. Dynamic speakers who are leaders in their industry as well as roundtable discussions to allow opportunities for personal connections and discussions. Join us to learn from and connect with other leaders and make authentic connections with Delta Zeta sisters.
Attendees will:
Gain insights and inspiration from our Keynote Speaker and our Women of Achievement Panel discussion
Build professional and personal skills by participating in roundtable discussions with Delta Zeta sisters of all generations.
Build your professional network by making authentic connections with peers and leaders throughout the event
Guest Speakers:
Jenni Luke (Xi Omicron, Loyola Marymount University) – CEO, Step Up
Sally Kadar, President, International Federation for Peace and Sustainable Development
Ginny Carroll, Founder/Executive Director, Circle of Sisterhood
Christy Phillips-Brown (Theta Iota, Western Carolina University), Vice President, Communications, Retail Business Services, Delta Zeta Sorority National President
Read more about our Guest Speakers here.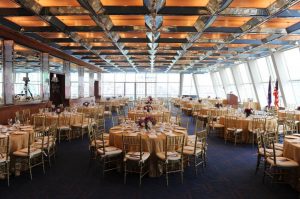 Location Information:
New York University Rosenthal Pavilion
Kimmel Center
60 Washington Square S
New York, NY 10012
Presented by the Delta Zeta Foundation, Truly Connected is an opportunity for collegians and alumnae to make connections and share ideas and information and provide personal and professional growth to attendees. This event will be offered at no cost to our active collegiate members and a nominal fee for Delta Zeta alumnae.