For these sisters, twirling has built bonds beyond campus.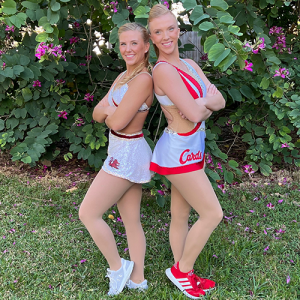 Growing up in the small community of Grand Island, New York, near Buffalo, Miranda and Morgan Procter were twirling batons while they were practically learning to walk. In 2018, representing Team USA, they both earned gold medals at the world championships in Norway at the World Federation of National Baton Twirling Association. Both were also members of Team USA in 2019, competing in Limoges, France, at the Grand Prix competition.
Miranda, Beta Delta-South Carolina, is a feature twirler with the Carolina Band, while freshman Morgan, Beta Gamma-Louisville, is the feature twirler for the Cardinal Marching Band. "Twirling is like a sisterhood," shared Miranda. "It is a small world. Because of my experiences with the sport, I have made some of my best friends." There is a high level of competition at the elite twirling level the sisters have attained, and there is an incredible support network. "I stay motivated because of my sister," says Morgan. "And I also know that our coach is a phone call away whenever I need her." Miranda attended Morgan's first game with the University of Louisville this past fall. She traveled to see her younger sister take the field at the Mercedes Benz Superdome in Atlanta, home of the NFL's Atlanta Falcons. It was a full-circle moment because the twirler for the opposing team from Ole Miss was also Miranda's former twirling duet partner!