World Turtle Day 2022
May 23, 2022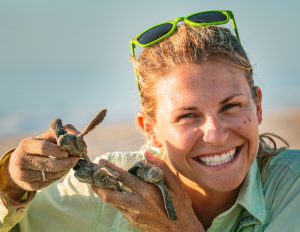 This World Turtle Day alumna Kendra Cope, Delta Beta-Tampa (FL), will spend the day like any other, except her day may look slightly different from ours.
Kendra founded her nonprofit, Coastal Connections, in 2017 with eight volunteers. They have grown to over 80 volunteers, interns and three paid staff members who lead programs involving thousands of people and helping hundreds of sea turtles a year. Coastal Connections aims to involve anyone and everyone in the conservation of sea turtles and show that anyone can help save sea turtles by providing the tools and educational programs.
How did you start Coastal Connections?
I realized I wanted to work with sea turtles my sophomore year of college. After finishing a master's degree in biology, I moved to Vero Beach, Florida, for my first job. I knew there was a need and an opportunity to involve community members in the conservation success story of sea turtles. People in the community wanted to help conserve turtles but did not have the mechanism to get involved. For the last five years, my team has shared the message that everyone can help save sea turtles in their way. They need to learn how and get connected with the right group.
What is your favorite event or educational program that you have been able to plan through Coastal Connections?
Turtle Digs is one of the few programs we offer where people can get up close to a sea turtle. They are educational, scientific sea turtle nest evaluations with show-n-tell moments, a short presentation on the beach, and a hatchling release if any babies are in the nest. People travel from all over to join us for these free events in July and August each year, and more than 10,000 viewers watch our Turtle Digs LIVE over social media.
How did your Delta Zeta experience impact the beginning of Coastal Connections?
Time management and organization are the two most important skills I learned during my collegiate years that I still use every day. Being active in my chapter meant finding ways to get my schoolwork done, take care of my physical health, work to earn a little money and live the most unforgettable years of my life. That was only possible by managing a busy schedule, keeping my schoolwork in order and prioritizing my personal and professional needs. DZ also taught me how to make friends with anyone and always find the best in people because we are all beautiful and important.
What is something new or exciting that are you looking forward to?
We have just launched a new research partnership with Florida State University. We will be working with and supporting their marine turtle lab as they explore sea turtle behaviors while foraging along Florida's coasts. This project will use underwater cameras to observe interactions with other turtles and possible human-related impacts like boats, fishing gear and debris. In August, we are also launching our international Turtle Trips program to Costa Rica. We will take small groups to explore significant sea turtle nesting beaches and immerse the group in the local culture while volunteering and giving back to the small community. (Available for DZ exclusive trips in March!)
What is your favorite part about getting to run your own nonprofit?
Every day is different, and every day is a challenge. I use skills I learned back in college alongside skills I am still learning today. I am constantly learning more about scientific findings in my field that help an endangered species while also enhancing my management skills, teaching skills, communication skills, and even networking skills. I am proud that the mission of my organization will better our oceans and our world.
What is a future goal?
I have two goals that I would love to accomplish. The first is to involve all people in the current sea turtle recovery story through small actions or behaviors like picking up trash or recycling. No matter where people live or where they travel, they are making a difference in protecting our oceans if they participate in these actions. The second is to build a sea turtle rehabilitation center in Vero Beach, FL. As our work continues to help sea turtle populations recover, we will also need more medical facilities to ensure the long-term health and well-being of the species as coastal towns of Florida become more developed.
Which shared value resonates with you most and why?
Empowerment. Feeling and being empowered allows you to advance the world's status quo by being bold and pushing the limits of change. Delta Zeta empowered me to be confident in who I am, and today I aim to empower other women so they can confidently go after their dreams and change the world for the better. My dream is to see sea turtles taken off the endangered species list within my lifetime, and I am empowered to adapt and grow my knowledge, leadership and mentorship towards up-and-coming generations to make that dream a reality.