Women's History Month: Generosity
March 31, 2022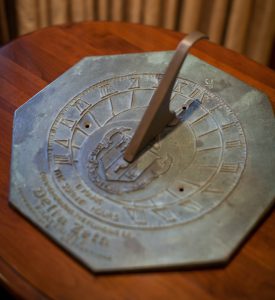 Every collegiate chapter owes her existence to the bond that comes from the partnership with the local college or university. Each Delta Zeta chapter has unique local campus traditions that make the experience special to those members. While 119 years have passed and times have changed, Delta Zeta has left her legacy in Oxford, at Miami and throughout campuses across the United States and Canada. Our Founders envisioned Delta Zeta to be not only just another organization at Miami, but to be a national sorority for many women to love and enjoy for a lifetime.
To mark every 25 years since our founding, the Sorority has presented a tangible gift to Miami University. In 1927, a memorial sundial designed by an Alpha Chapter member was presented to the university. When the campus was undergoing renovations in 1952, the sundial was returned to Delta Zeta and is a part of the National Historical Museum and Headquarters.
On our Golden Anniversary in 1952, a memorial plaque was presented to Miami University and hangs in Harrison Hall which sits on the same site as Old Main. The original building was constructed in 1816 with various additions made through 1898. Originally dubbed Old Main, it was renamed Harrison Hall in 1931 before being condemned in 1956 and razed in 1958. The present Harrison Hall was constructed in 1960. Do some of you remember a story about Old Main? It was right outside of Old Main where Anna Keen, one of our beloved Founders, had the first ever Delta Zeta Constitution snatched from her hands. The plaque which honors the Founders was hung in Harrison Hall and a scholarship was also established in their honor. The plaque also gives special recognition to Dr. Guy Potter Benton, Delta Zeta's Grand Patron.
Richard Hall, the home of Alpha Chapter's suite, also housed Delta Zeta's Diamond Anniversary (75 years) gift in 1977, which was a portrait of Lucile Crowell Cooks, a member of the Alpha Chapter. Mrs. Cooks was the first woman to serve as President on the Miami University Board of Trustees. Originally Lucile's portrait was placed in the suite in Richard Hall; however in 1996 the Alpha Chapter presented the portrait to the national organization in honor of the dedication of the Cooks Conference Center, named after Mrs. Cooks, where the portrait now hangs.
Miami's Sesquicentennial Chapel has significant meaning to Delta Zeta. The all-faith chapel serves as the location for the Alpha Chapter's Initiation Ceremonies each year. Many Alpha members have been initiated here! What's most significant about the Sesquicentennial Chapel is that the chimes housed there were our gift to the university in honor of Miami's 150th birthday. These chimes were dedicated in October 1959 in memory of our Founders and can be heard throughout the Miami campus daily. Also located inside the chapel is a special plaque commemorating the merger of two sororities founded at Miami—Delta Zeta and Delta Sigma Epsilon in 1956.
In 1985, Delta Zeta donated the Founders Memorial Circle outside the Marcum Conference Center. A plaque commemorated this dedication as well as the six benches in honor of Delta Zeta's six founding members. This gift was presented to Miami University as a part of the Diamond Jubilee Convention.
Finally, in 2002, Delta Zeta's Centennial Year, we unveiled our Centennial gift . King Library is the main library on the Miami campus. Delta Zeta donated a memorial to commemorate the founding of four fraternities and one sorority at Miami. Inscribed on the four arches that are part of the architecture on this side of the library are tributes to Beta Theta Pi Fraternity, Phi Delta Theta Fraternity, Sigma Chi Fraternity, and Phi Kappa Tau Fraternity. Between these two columns, under a graceful arch, a tribute to the first sorority at Miami, Delta Zeta, is etched. Benches are positioned across from the memorial so others can stop and reflect upon it. These five organizations are the five Alpha's at Miami University.