Member Spotlight: Tina Wei Smith
May 29, 2021
The month of May provides the opportunity to celebrate the diversity of our sisterhood through recognizing Asian American and Pacific Islander (AAPI) Heritage Month. We are proud to introduce you to a Delta Zeta alumna who continuously makes an impact within as well as outside of her AAPI community. Meet Tina Wei Smith, Alpha Beta, University of Illinois.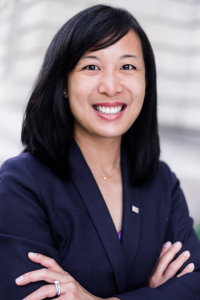 Tina formerly served as the Executive Director of the White House Initiative of Asian Americans and Pacific Islanders from 2019-2021. In this capacity, Ms. Smith was responsible for directing the efforts of the Initiative and of the Presidential Advisory Commission on Asian Americans and Pacific Islanders (AAPIs), including overseeing an Interagency Working Group. She advised federal agency leadership on the implementation and coordination of federal programs as they related to AAPIs across the federal government, including advising the Co-Chairs of the Initiative, the U.S. Secretary of Commerce and the U.S. Secretary of Transportation. During her tenure, she re-established the Initiative at the Department of Commerce and released a 2020 Executive Report on Advancing Economic Empowerment for Asian Americans and Pacific Islanders.
She currently serves as a Senior Advisor at the Hudson Institute, a think tank and research center dedicated to nonpartisan analysis of US and international economic, security, and political issues. Read on to find out what AAPI Heritage Month means to her, what she wants sisters to know about the AAPI community, the empowering moments she's had as a Delta Zeta, and more!
What does Asian American and Pacific Islander Heritage Month mean to you?
To me, it's a celebration of my heritage and culture, and an acknowledgment of the contributions of the AAPI community to the greater American society. I think up until 2021, I have always celebrated AAPI Heritage Month within just my community of AAPIs. But given the events of 2020-2021, and the alarming rise in anti-Asian hate, for the first time in my lifetime I am now seeing a much more mainstream celebration of AAPI heritage, culture, and history. It is heartwarming and encouraging. I hope more and more we will recognize the great contributions AAPIs have made to this country and that many will come to see that the AAPI experience is integral to the American narrative, rather than just perpetual foreigners.
Is there anything you want your Delta Zeta sisters to know about Asian American or Pacific Islander culture?
I think back to when I was in AP history class in high school when we learned about the completion of the transcontinental railroad. I distinctively remember reading just one sentence that mentioned that Chinese laborers contributed to the efforts. Fast forward to 2019 when I attended a White House event to hear the first U.S. Secretary of Transportation of Chinese descent, Elaine L. Chao, acknowledging the 150th anniversary of the completion of the railroad and speak about how at the 100th anniversary there wasn't any acknowledgment of the Chinese workers. These laborers worked through the most treacherous terrain and freezing cold or blistering hot weather; many of whom lost their lives. It has taken this long to include them in their rightful place in our nation's history and not only do we need to celebrate, but also mourn for the lost lives and sacrifices made. I think also about the many Asian Americans and Pacific Islanders that fought as Americans in the U.S. Civil War, WWI, and WWII – how heartbreaking to be fighting so valiantly for your country and yet still ostracized or discriminated back home in the U.S. I am so glad that we are finally coming to a place where the AAPI narrative is being more recognized and celebrated, and hopefully, also included in our history books.
In terms of culture, I hope people take the time to learn about the diversity within the AAPI community. We are not a monolith. The heritage of AAPIs comes from so many different countries of origin and from very diverse backgrounds. We also come for many different reasons and under different circumstances, some for higher education and others for entrepreneurial goals. Some come as refugees and others seeking to find their piece of the American Dream. Some have been here for many generations and for others, they're first-generation immigrants. But we are all Americans first.
Are there any specific resources you feel would be beneficial for members to read/view about Asian American & Pacific Islander Month?
There are a lot of resources out there. As a former political appointee in the federal government, I would be remised if I didn't share some of the government and nonprofit sector resources:
There is also a newer organization, called The Asian American Foundation. It is an extraordinary effort by some of America's best entrepreneurs, public servants, advocates, etc. Their goal is to provide funding and resources to build the infrastructure to improve AAPI advocacy, power, and representation. It is really the first of its kind and I look forward to seeing all the growth in initiative and opportunities to help lift the AAPI community (www.taaf.org).
For those with young children like me, I am just amazed by the growing collection of diverse voices in children's literature. I love reading books that have families just like my own and for my kids to see that eating sushi or dumplings and celebrating Chinese New Year isn't just something they do with their relatives but that so many other people celebrate these holidays as well. I also like to expose my children to all kinds of people and cultures. My current favorite find is Paper Son: The Inspiring Story of Tyrus Wong, Immigrant and Artist. Who knew that the artist who inspired the beautiful landscaping designs of Disney's Bambi was a Chinese American immigrant!
Can you tell us about a pivotal or empowering moment you have had as a member of Delta Zeta?
I am not sure I can just pinpoint one experience or moment but I think what I really appreciated during my collegiate time as a member of Delta Zeta was that my chapter was not so insular that members couldn't or weren't also invested and involved in all parts of this campus. As a campus leader through our Student Senate and other campus-wide elections, I felt fully supported by my chapter to be involved and gain leadership experiences across campus. It was great to be in a group where folks were well-rounded – involved on campus, in academics and had other interests and passions.
How has your membership experience evolved as an alumna?
Post-graduation, one of my dearest friends, who is in my women's Bible study group, also happens to be a Delta Zeta alumna of another chapter. I met her at my first official job after graduating from the University of Illinois at Urbana-Champaign. She's been such a great source of wisdom, strength, and friendship. We first bonded because of our DZ connection but we've remained great friends over the years. As I have been in and out of Washington, D.C. for work opportunities, this friend has been a constant source of inspiration. It's been great to continue to meet amazing Delta Zetas along my journey post-college.
Which Delta Zeta shared value do you relate with most or hold closest to your heart and why?
I would have to say empowerment. I think friendship is a given when you get a group of great young ladies together. But it does take thoughtfulness and intentionality to cultivate empowerment. These days, I probably spend a lot more time thinking of my kids, rather than myself. I think about what I want to impart to them. More and more I come back to this thought: I want them to understand their great worth and value in this world, and in turn I think they will be more confident and thus, more empowered. No matter the challenges and difficulties on this life journey, I want them to feel empowered to craft their own future and rise above the fray. I think through Delta Zeta, there are so many opportunities to get involved, lead and explore one's interest and have a better awareness of oneself. All of this helps to develop empowered young women, ready to take on the challenges of this world!
Want to share your Delta Zeta story? Email your story to [email protected]