Featured House: Alpha Gamma - University of Alabama House
Making a House a Home in Alabama 
Read the full article in The LAMP Fall 2018
By: Kayla Ray, Theta Psi – Ashland (OH), Communications Coordinator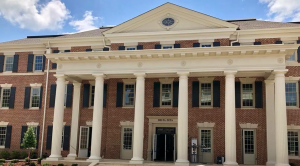 This fall, as members of the Alpha Gamma Chapter at the University of Alabama return to campus and move in at 900 Magnolia Drive, they will be welcomed to a beautiful new house which they will begin to make home.  
As the chapter grew in membership, the chapter needed a new home that could comfortably seat its members for chapter meetings, host formal dinners and other chapter activities. The chapter had outgrown their previous house, and it could no longer accommodate the needs of the members.  
Along with the signature rocking chairs on the front porch, the house is equipped with a dining room that seats nearly 200, six dedicated study rooms, office spaces and a board room that includes a dry-erase wall which is perfect for meetings. The chapter room, which doubles as a tornado shelter, can comfortably hold almost 400 chairs (which each have a lamp design on the back). A unique feature of this house is the t-shirt station for storage and distribution of the many t-shirts that are a big part of campus life at Alabama. This space has been decorated with framed t-shirts donated by alumnae from as far back as 1962. The main attraction that truly sets this house apart is the Presentation Practice Room, a room outfitted with video-conferencing equipment for member presentation practice and for holding virtual meetings and webinars.  
The house has little touches of their rich chapter history to complement the functional spaces. The six stunning columns in the front of the house symbolize Delta Zeta's six Founders who set the trail blazing for generations of members after them. The fireplace mantel in the library is from the original Alpha Gamma house built in 1925, and the Flame Eternal Wall is surrounded by brick salvaged from the 1961 house. 
"Every house at Alabama is beautiful — no question. So even though the setting is fabulous, in the end, it's not about the house. It's about who lives there, shares meals and studies there, laughs and cries and works and plays there, and what they come to mean to one another. We have worked very hard to create a physical space that fosters our members' ability to connect with each other," said Virginia Gilbert Loftin, Alpha Gamma – Alabama, Foundation Trustee and Building Committee Co-Chairman.