Truly Connected Networking Nights Have Record-breaking Attendance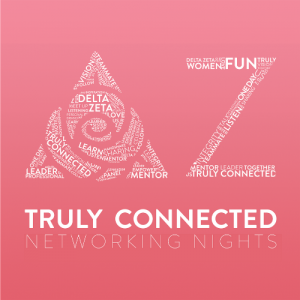 Your support of the Delta Zeta Foundation creates exciting and timely professional development and networking opportunities for Delta Zeta collegians and alumnae, like Delta Zeta's own Truly Connected. 
During Fall 2020 and Spring 2021, Delta Zeta's Truly Connected Professional Women's Networking Conference pivoted to a virtual format, and Truly Connected Networking Nights was born. Over the past eight months, more than 1,000 Delta Zetas registered for this new opportunity. Truly Connected Networking Nights had international attendees from Australia, Canada, Dominican Republic, New Zealand, Peru and Switzerland, making the event truly global!
Grace Castle, Pi Phi, Cleveland State University, attended three Truly Connected Networking Nights and attended two in-person Truly Connected events in previous years.
"I attended the Business and Finance Industry networking night, How to Advocate for Yourself and Develop a Leadership Voice and Balancing Career, Family and Your Personal Life. I was drawn in by the incredible sense of community that these events foster, and the networking nights also create that same sense of community in a virtual space," Grace shared.
Other topics for Truly Connected Networking Nights included:
Industry: Education
Industry: STEM (Science, Technology, Engineering and Mathematics)
Industry: Communications, Marketing and Public Relations
Industry: Law/Criminal Justice
Professional Development: Effective Interview Preparation
Professional Development: Building Your Personal Board of Directors
Professional Development: Navigating a Multigenerational Workforce
One of Grace's favorite things about Truly Connected (both in-person and virtual) is meeting Delta Zetas in her career field.
"By connecting with Delta Zetas in my career field, I have been able to ask for professional advice and guidance as well as learn from others' professional career experience," Grace said. "Attending the networking nights also gave me a great connection to Delta Zeta . . . it is always such a great experience to connect with new people and talk with sisters around the world."
Layne Bleyswyk, Lambda Kappa, University of Alabama/Huntsville, attended the Industry night for education professionals, and she created new Delta Zeta relationships in her field. 
"It made my Delta Zeta experience more worthwhile because I was welcomed into a new space of sisters, from all over the world, whom I had never met before," Layne said. "They also love education, just like me."
Many Truly Connected Networking Night industry experts and panelists are featured as Delta Zeta's 35 Under 35 Award winners, and all past Truly Connected Networking Nights are available for viewing in the Delta Zeta app.
Join us Tuesday, May 4 for Professional Development: Building and Maximizing your Personal Brand and Wednesday, May 5 for Entrepreneur/Self-Employed/Arts Industry Night to network and create new Delta Zeta relationships!