Diversity, Inclusion and Belonging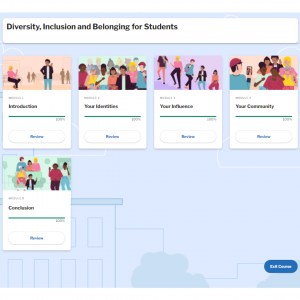 Delta Zeta announced the implementation of a Diversity, Inclusion and Belonging online course for all collegiate members along with national, regional and collegiate advisory board volunteers, beginning this spring in an effort to create an environment for our members to thrive and find deep and lasting friendships and belonging. Created out of Delta Zeta's Vision Committee, and requested by our members, this course aims to advance our sisters' pursuit of knowledge around diversity, inclusion, equity and belonging.
The Delta Zeta Foundation is a proud partner in helping deliver these courses through The Learning Center, Delta Zeta's online learning platform.
"I absolutely think the Delta Zeta Foundation's investment into courses like the Diversity, Inclusion and Belonging course is worthwhile for Delta Zeta members," said Emma Madsen, Beta Delta-South Carolina. "The information distributed in courses like this one is extremely important, and I appreciate that Delta Zeta is setting an example in these offerings."
Beginning with a pre-survey for collegians and alumnae to gauge where their knowledge lies, the course provides situations that college students experience on a daily basis on campuses and in their community. Highlights of the course include education on identities, bias, equity, influence, allyship and microaggressions.
"This training put us in the driver's seat and taught us how to appropriately intervene when witnessing microaggressions. I enjoyed learning new information about diversity and inclusion and how to help others," said Kathryn Duncan (Zeta Psi – Stephen F. Austin State University).
Throughout the course, students watch short videos about real-life experiences and reflect on their own knowledge and understanding.
"As a current student, I am so grateful to the Delta Zeta Foundation for providing trainings and programs for me and my sisters," said Kathryn.
Because of your generosity to the Delta Zeta Foundation, this course, along with other leadership development and training, is available through The Learning Center!