Truly Connected kicks off 2021 Delta Zeta Convention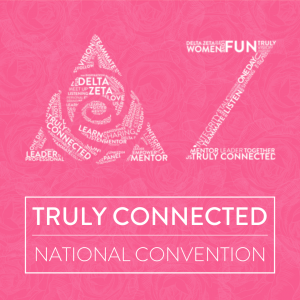 Melanie S. Griffin, Alpha Sigma – Florida State University, inspired members from lessons from her own life with the reminder that life is a marathon, not a sprint.
Melanie helped kick off the 2021 Delta Zeta National Convention with energy, enthusiasm and passion for Delta Zeta.
"Of all the keynote addresses I've given over the past several years, this is more than likely my absolute favorite one," Melanie said. "Don't tell any of the other audiences."
A triple-graduate of Florida State University (Business Finance, 2003; MBA, 2006, JD, 2006), she served the Alpha Sigma Chapter as Chapter President, Convention Delegate and was on the Florida State University Homecoming Court.
Her message to Truly Connected participants, and to Delta Zetas, was simple: Life is a marathon. Not a sprint.
"How do we build that mental positivity to really connect with the world?" Melanie asked. She challenged participants to build resiliency – when life gets tough, one needs to put one foot in front of the other and be the best version of themselves, which will help overcome challenges.
Participants were able to engage with each other and Melanie through the chat feature on the National Convention platform, encouraging each other, offering tips and tricks for success and sharing their own stories.
Another highlight of the virtual event was participants being able to network with fellow Delta Zetas in breakout rooms, focused on topics including, but not limited to, cultivating informal leadership skills, developing executive presence and leading authentically.
"One of my 'ah-ha' moments during this networking event was how cool it is to be connected to so many women," said Amy Wyse, Gamma Chi – Ball State University. "Learning about how Delta Zeta has impacted countless women has truly inspired me."
Sponsored by the Delta Zeta Foundation, over 100 women from around the world participated in this Truly Connected National Convention Kick-Off. Gifts, like yours, have helped to support Truly Connected through both live and virtual events since 2016.