Donor Spotlight: Elaine Lee Jeffers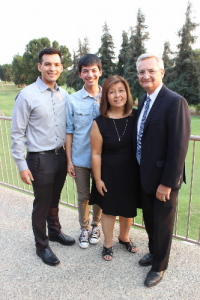 Foundation donor Elaine Lee Jeffers, Theta Rho – California State University/Los Angeles, reminds Delta Zetas: "Actions speak louder than words."
Elaine is no stranger to dedication, both in her career and her volunteer work. She was happily retired when the city of Anaheim, California asked her back to be the Human Resource Analyst in 2019. And her son's high school booster club asked her to stay for year five – when her son graduated high school in four years. She also served as the Treasurer of the Delta Zeta Lamplighters for 25 years, where her volunteer career with Delta Zeta began.
Elaine's work with the Lamplighters began by volunteering for Flame Fantasy, a fashion show started by Gail Patrick, Alpha Pi – Samford University (AL).
"I started with managing the seating reservations in a tiered ballroom," Elaine said, "and how to appease women who did not get the seats they wanted."
This also helped encourage Elaine's first gift to the Delta Zeta Foundation, as she supported the Rose Tree at a Founders Day event in Long Beach, California. She gave in honor of her College Chapter Director.
Elaine graduated with a degree in Business Administration with an emphasis in marketing, started a career in city government, got married and raised two boys. But Delta Zeta was never far away. She served as the President for the Orange County Alumnae Chapter, served as a State Alumnae Chairman and is currently the Area Alumnae Director for Area V.
"Delta Zeta is always here," Elaine said. "It doesn't go away. Just call us, and we are always here." She tells collegians that while you have friends in college, the sisterhood really expands as an alumna . . . and Elaine's closest Delta Zeta sisters are sisters she met after college. Elaine is inspired by the work Delta Zeta and the Delta Zeta Foundation are doing – by providing women the self confidence for themselves to achieve personal and career goals and making lifelong connections.
The Delta Zeta Foundation is proud to recognize Elaine and her contributions to the Delta Zeta Foundation, as she recently received her Ionic Column charm bracelet. Charm bracelets are a gift to donors whose lifetime giving to the Delta Zeta Foundation reaches $3,500.
Donors like Elaine help support critical programming and scholarships for all Delta Zeta sisters. To learn more about your impact, please visit www.deltazeta.org/foundation.