Delta Zetas learn how to promote their personal brand!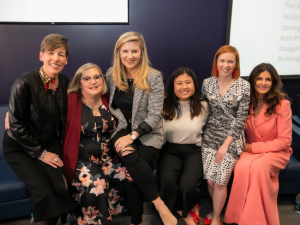 Nationals Park, home of the World Series Washington Nationals, changed colors from scarlet red, navy blue and white to pink and green on Saturday, November 9 for Truly Connected Washington, D.C. More than 200 Delta Zetas gathered for our fifth annual professional women's networking conference.
Anna Gentry, Zeta Pi, University of Georgia, a 1902 Loyalty Society donor, thought attending Truly Connected would be the perfect opportunity to make connections within Delta Zeta as she grows in her leadership experiences.
"I really enjoyed connecting with others and seeing how expansive Delta Zeta is through many different people and organizations," Anna said.
Both student and alumnae participants heard from our keynote speaker, Kelly Fisher Katz, Gamma Nu, Eastern Illinois University, and our Alumnae of Achievement panel, and they participated in roundtable discussions, moderated by Delta Zeta alumnae. Kelly provided insight to her professional career through her positions with United Airlines, founding her own nanny agency and now as the brand ambassador for an international jewelry brand.
"I feel encouraged to take risks head-on and learn each step of the way," said alumna participant Lisa McCoy, Pi Theta, Rollins College (FL), after hearing Kelly speak. "Life is unpredictable, and you need to be able to say 'yes' with authenticity and positivity and push forward in order to become better personally and professionally.
Cara Odom, Pi Epsilon, Clemson University (SC), felt she benefited the most from the Alumnae of Achievement Panel. She was excited to learn how to translate her chapter experience in the job market.
"Each role I had will prepare me for future situations in my career," Cara said. "I specifically liked the part about owning up to your mistakes and learning from them . . . . that will make you stand out to your boss."
Your gift provides opportunities like Truly Connected to create a support system of Delta Zetas for all members, both in college and in their careers.