More than 4,000 undergraduates give back to Delta Zeta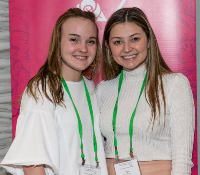 Delta Zeta collegiate members from all over North America are giving back this year by joining the 1902 Loyalty Society, a giving society only for undergraduate Delta Zetas, with their individual gift of $19.02.
"Delta Zeta has given every member of our chapter so much opportunity and experience that we will cherish together," said Isabel Hendrickson (Gamma Delta, Pennsylvania State University). "All of the members in our chapter are proud to be Delta Zeta women . . . the 1902 Loyalty Society is our way to give back."
When a chapter achieves 100 percent participation in the 1902 Loyalty Society, the chapter is automatically entered in a drawing for a $1,000 Visa gift card. The Gamma Delta Chapter joined over 30 chapters who had all their members participate in 2018 and 2019, and were lucky enough to be celebrated with the gift card prize in both those years.
Sophia Radetic (Alpha Gamma, University of Alabama) encouraged the Alpha Gamma Chapter to achieve 100 percent participation this past academic year – and they rose to the challenge. "l feel passionate about 100 percent participation after returning from Presidents Academy," Sophia said. "I think it is important for all Delta Zetas to contribute to the Delta Zeta Foundation because they never know who around them will benefit from a scholarship or leadership training."
Both Gamma Delta and Alpha Gamma promoted the 1902 Loyalty Society during chapter meetings and provided information about the Delta Zeta Foundation to members. Each chapter said "Empower the Woman" means to show support to all women in their endeavors – whether that is Gamma Deltas supporting sisters furthering their education or, at Alpha Gamma, supporting sisters who are running for student government.
The 1902 Loyalty Society was founded in 1999 and provides the opportunity for collegians to support their fellow sisters for scholarships, leadership programming and other important Delta Zeta initiatives. Upon joining, collegians will receive a special dangle for their badge that changes each year.
Undergraduate Delta Zetas contributed more than $78,000 in 2019-2020 to the Delta Zeta Foundation through their membership in the 1902 Loyalty Society.