Donor Spotlight – Traci Kennedy-Brockfield
One of our first-ever 1902 Loyalty Society donors!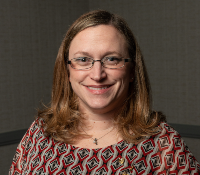 Traci Kennedy-Brockfield's (Alpha Rho – Ohio Wesleyan) first gift was to the Delta Zeta Foundation during the inaugural year of the 1902 Loyalty Society. Now, serving as the College Chapter Director (CCD) for Alpha Rho, Traci continues to dedicate time, talent and treasure to Delta Zeta.
Traci has stayed involved with Delta Zeta since her graduation in 2001. First, with the Columbus Alumnae Chapter as its Philanthropy Chair and eventually serving as Alumnae Chapter President. She served Alpha Rho in a number of advisory board positions over the years, and was appointed CCD in 2008. She also served on the National New Member Education Committee. Outside of Delta Zeta, Traci works professionally as an elementary school teacher and volunteers with Girl Scouts and at her church.
"I never pictured myself a sorority leader in college, let alone later as the CCD," Traci said. "If the chapter women before me hadn't empowered me to become a strong woman, there is no way I would be where I am now – in Delta Zeta, in my profession or in my personal life."
Gifts to the Delta Zeta Foundation help empower the future of Delta Zeta – and Traci emphasizes that every dollar matters.
Traci began supporting the Delta Zeta Foundation in 1999, and her loyalty has continued ever since.
"I started with my small $19.02 donation," she said. "I may only give $50-100 each year; or more when I can, but every donation does matter."