2020 - Fall Newsletter
November 2020
Delta Zeta Foundation scholarship recipient works at her dream job
Stephanie Toole, Alpha Rho, Ohio Wesleyan University, received a Delta Zeta Foundation scholarship for the 2014-2015 academic year and is working in the field she always dreamed she would work – museums and public history. Stephanie serves as the Education and Outreach Manager at the Massillon Museum, where she works with an imaginative team of staff and volunteers. READ MORE.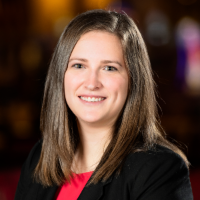 Donor Profile – Jacqui Lyon
Every sister brings something to Delta Zeta, and every gift helps continue that mission.
When Jacqui Snyder Lyon, Theta, The Ohio State University, moved to a new state not knowing anyone, Delta Zeta sisters were the first friends she made. That move, combined with reflecting on all the great Delta Zeta memories she had, encouraged her giving to the Delta Zeta Foundation. READ MORE.
Founders Day Challenge 2020
Delta Zetas and friends lit up social media and the globe in pink and green during Founders Day Challenge on October 22! Together, we raised a record-breaking total of more than $158,000 – nearly a 50 percent increase from 2019! Thank you for giving graciously on October 22 – we could not have done it without you!

Delta Zeta achieves $5 million Heart for Hearing and Speech Goals and unveils new partners for future philanthropic growth
In 2020, Delta Zeta completed our $5 million pledge to the Starkey Hearing Foundation. We look forward to our continued relationship with Starkey. We are excited to announce a new partnership with the American Society for Deaf Children, an organization created by parents, for parents of Deaf Children.
Delta Zeta is also excited to announce an expanded partnership with SeriousFun, which The Painted Turtle is a part of, as our global service project. With this partnership, all members will have even more opportunities to volunteer with access to nine camps in the United States (including The Painted Turtle), as well as SeriousFun's international camps.
Truly Connected Networking Nights
JOIN US for our upcoming Truly Connected Networking Nights!
Tuesday, December 8: Professional Development – How to Advocate for Yourself and Develop a Leadership Voice
Wednesday, December 9: Industry – STEM (Science, Technology, Engineering and Mathematics)
Join us for this unique professional development opportunity and to connect with your Delta Zeta sisters!