116 years of Delta Zeta Preserved in One Place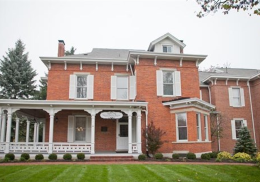 Whether you make a special trip to Oxford, Ohio to tour the Delta Zeta National Museum and Headquarters in person or virtually walk through the Museum from the comfort of your own home at dzmuseum.deltazeta.org, the experience is unforgettable and unique either way.
Inside, each room of the expanded 19th century home and its furnishings tells the story of Delta Zeta . . . visitors can see the ice skates that Julia Bishop Coleman used to zip around frozen lakes in Oxford or admire the Founders' portrait in the Founders Parlor. Guests create their own Museum moments – feeling empowered viewing our Women of Achievement display or feeling inspired by the portraits of our Past Presidents as you ascend the main staircase.
Visitors are able to step back in time as they examine artifacts and pictures that tell the story of Delta Zeta's history. Each room and hallway are filled with our rich history that leaves members with so many incredible emotions and stories as they tour the building.
Outside, visitors entering the Centennial Garden through a white gate carved with the Roman lamp, are reminded to walk truly in the light of the flame. In the garden, guests walk among the lasting legacy of donors who gave graciously to preserve the past while laying the path to the future. Delta Zetas and friends can support the Museum's legacy and continue preserving our history through purchasing a commemorative brick to be placed in either the Centennial Garden or Founders Walk.
In 2019, Delta Zeta took more steps to preserve the history of our organization. Not only does history come alive when you visit the Delta Zeta National Museum and Headquarters, or take an online tour, but now all issues of The LAMP, Delta Zeta's magazine, are digitally preserved – the entire LAMP is digitally scanned, which creates searchable PDFs: https://www.deltazetaarchive.org. Now, all can experience the Delta Zeta story, wherever they may be!
In July, we look forward to welcoming more than 300 undergraduate Delta Zetas to Oxford for the Norma Minch Andrisek Leadership Conference. These members are still writing their Delta Zeta story. Part of that story will be a tour of the National Museum and Headquarters as well as a tour of the Miami University campus, all while taking part in learning and sisterhood!
These experiences are cherished, and we now have the opportunity to share them in the Delta Zeta app. Please join us in sharing your Delta Zeta Museum experience by sharing your story in the Member Stories section.