Delta Zeta LAMP archives created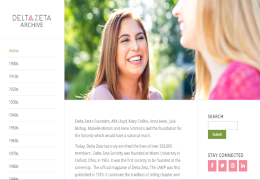 This winter, Delta Zeta partnered with ARCHEIOS, a company whose goal is to assist organizations with digitally preserving and distributing their histories. The entire LAMP archives were digitally scanned, creating searchable PDFs, which now live on https://www.deltazetaarchive.org for all to view.
You can help keep Delta Zeta's legacy alive with a gift to the Delta Zeta Museum Fund or through the purchase of a Personalized Brick in our Centennial Garden. Throughout every facet of the museum and the Centennial Garden, the Delta Zeta Foundation preserves the past while laying the path for the future.