One Alumna's Giving is inspired by the Creed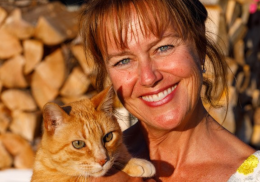 Lisa Rullman Craighead (Xi Beta – Eastern Kentucky University) returned as a donor to the Delta Zeta Foundation with a gift on Delta Zeta's first ever Day of Giving on March 1, 2018.
"It has been in the back of my mind for some time to do something to honor the founding members of Xi Beta," Lisa said. "I wanted to acknowledge their importance to me."
Lisa joined Delta Zeta during the colonization period of the Xi Beta Chapter at Eastern Kentucky University. Lisa, a Grace Mason Lundy award recipient, said, "What an honor it was to have Norma Minch Andrisek present at our initiation and the signing of our charter!" Lisa served as a member of the Judiciary Board, Standards Chairman and as the second President of the Xi Beta Chapter.
Upon graduating from Eastern Kentucky University with a Bachelor of Nursing, Lisa worked as a pediatric nurse for 16 years, with four of those as a traveling nurse. She took a hiatus from nursing and worked in the non-profit world serving the Episcopal Church and two environmental organizations. Seven years ago, she returned to nursing as a private duty nurse.
"Being from the pre-cell phone and pre-Internet era, I lost touch with nearly all my sisters," Lisa said. "A few years ago, we reconnected and have been getting together on an annual basis."
She said she appreciates and loves them even more now than she did then. One of her sisters, Carolyn Osborne (Xi Beta – Eastern Kentucky University) even inspired Lisa to rememorize the Delta Zeta Creed, and she recites it from time to time. Her favorite line is "To crusade for justice, To seek the truth and Defend it always."
"It is such a good reminder to be better than I am and to be accountable to myself and my potential," she said.
Lisa supports the Delta Zeta Foundation because women who she will never know donated to the Foundation long before she joined and became a sister. Now, she feels, it is her turn. Lisa does not want a sister or potential sister to miss out on opportunities because there was not enough financial support.
"Every dollar counts," Lisa said. "Remember how tight funds felt at times during college and how even a few dollars could make a difference? The same is still true. Money that you may not even miss could change the life of another."
Lisa has enjoyed reconnecting with her sisters and looks forward to future involvement with Delta Zeta. Lisa makes her home in Jackson, Wyoming. In her community, she serves on the Old Bill's Run Committee for the Jackson Hole Community Foundation and has been involved with Habitat for Humanity of the Greater Teton Area, Browse 'N' Buy (local thrift store), the Vestry of St. John's Episcopal Church and the Jackson Hole Conservation Alliance. She also ran the Living Gift Market to benefit Heifer International for 12 years.