2023 Presidents Academy: Inspiring confidence in our sisters!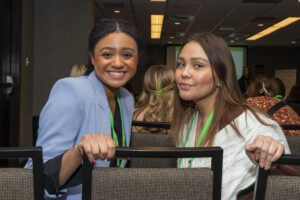 For the first time since 2019, Delta Zeta Chapter Presidents and College Chapter Directors (CCDs) gathered in Dallas, Texas, January 12 – 15 to learn, engage and connect about their respective positions and fine-tune their leadership skills.
Presidents and CCDs were able to build confidence in their roles and develop connections with fellow sisters throughout the weekend and beyond.
"Presidents Academy has helped me grow as a person," said Sonia Falcon, Lambda Omicron, Angelo State University. "I'm learning that I'm more confident and more capable of having conversations with very important people than I thought."
Lauren Frost, first-time Presidents Academy attendee and CCD for Delta Phi Chapter, Northeastern State University, loved the message that challenges open up new possibilities in ourselves.
"Stepping into my role has been overwhelming . . . it's a blessing, but scary," Lauren said. "Having that vulnerability and being honest with those around me, while at Presidents Academy, has created a safe space for great conversations of advice, and I've met so many people that can relate to where I've been."
Brooke Westcott, Omicron Omicron, Lindenwood University, was initially drawn to Delta Zeta because of the value of empowerment.
"When I went through recruitment, other chapters on campus were tearing down others to make them seem better," Brooke said. "Every single time I talked to a Delta Zeta, they spoke about the power from within."
Brooke said that same feeling was evident during Presidents Academy – and that she was making plenty of connections with other presidents while gaining confidence in herself as a leader.
Your giving graciously inspires chapter presidents and CCDs to ignite their passion for Delta Zeta.