Women in STEAM: Blanca Herrera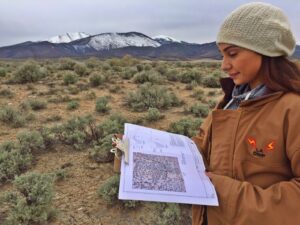 By Abby Hanlon, Delta Upsilon-Marshall University
Blanca Herrera is a Civil Engineer Associate for the Los Angeles Department of Water and Power. She is a 2020 Delta Zeta 35 Under 35 honoree. She pursued a career in the field of engineering after participating in Engineers Without Borders, whose mission is too empowered communities by providing engineer solutions to meet basic human needs such as clean water supply and basic infrastructure.
Can you share a little bit about your educational experiences?
I got my bachelor's in civil engineering from California State University, Los Angeles. I decided to pursue a degree in this field and community because, as an immigrant, I found comfort in mathematics when I came to the United States. Anywhere you go one plus one is always two. That's what instigated the idea to pursue a career somewhere in mathematics and science. I also have a master's degree in engineering from the University of Southern California (USC). I am a registered professional engineer in California with my P.E License. Now, I'm a power engineer. I work in the renewable Energy Department and deal with green energy, infrastructure, wind power facilities, solar facilities and hydroelectric dams. Part of the work I do every day helps create a greener California, and it helps everyone in the city that needs water and power to survive and maintain a good lifestyle.
What is an accomplishment either in your career or in your personal life that you are most proud of?
Earning my professional engineering license. I'm certified in California which isa three-part exam. There's an eight-hour general engineering exam, plus three additional exams. Passing the exam has provided me with a lot of open doors and given me the greatest sense of achievement when it comes to an academic perspective. From a professional perspective, not only do I work for the Department of Water and Power as a power engineer, but I also assist my dad who has his own engineering firm. I do a lot of side jobs. I do a lot of interior remodeling, home additions and things of that sort, so in that aspect, I can have my 9-to-5 job, and I can also have a professional hustle.
What does a typical workday look like for you? 
Typical things that I do in my office will be design. I also do a lot of project management and coordination with outside agencies, like the Department of Fish and Wildlife and the Federal Electric Department. I deal with user needs. Since I do a lot of coordinating with external agencies, it helps with my communication skills and my writing skills, so engineering is not just about numbers. You have to be able to communicate with other agencies. I'm also the Vice President of the Society of Women Engineers within the departments. Hence, a portion of my days also focus on that, which I focus on the mentoring program we have set in place the mentoring program for new, entry level engineers. I provide support to the mentors and the mentees that are participating in the program. I do dedicate about an hour or two of my day to that.
What Delta Zeta value resonates the most with you and why? 
I would say empowerment, because I feel like it's related to my job. There are not a lot of women in engineering. I was one of the few women in all my classes, but I think that also drives you to try harder to be better than everybody else. Now that I'm a little bit older in my career, it has helped give me a little bit of a drive to inspire other young women to pursue the field of STEAM. We do want to see that gap closing. Lately I've seen more of a push of women in STEAM that I have never seen before, but I think it's so amazing because science, engineering and math are everywhere, and women are just as capable as men to pursue a career in this field. We're just not aware of the possibilities and where you can go in this field. I believe that Delta Zeta helped me create a sense of belonging, create a sense of a sense of ownership and with that comes women empowerment. The second I see another woman in the field of engineering or pursuing a career in the field of engineering, I'm so excited. I want to help them as much as I can by providing mentorship, life experience or anything that I can do to help them out, because I believe it's important to empower women in this specific field that is so male-dominated. Delta Zeta gave me that sense of empowerment to pursue a career in the field of STEAM.