Women in STEAM: Gina Thornberg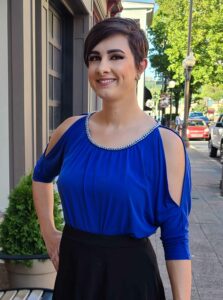 By Abby Hanlon, Delta Upsilon-Marshall University
March is Women's History Month, and we are highlighting Delta Zeta sisters in STEAM- science, technology, engineering, arts and math.
Gina Thornberg, Iota Delta-Edinboro (PA), finished her associate degree at Robert Morris University and enrolled at Edinboro University to complete her undergraduate degree. She only had a few friends, one of whom was a Delta Zeta member. She knew she wanted to make more friends to help ease the transition to the new campus and classes. She attended a club fair and met the Delta Zeta members on campus.
"I was so nervous that I tripped over one of the Delta Zeta members' feet and fell right into the chapter president. My first thought was, 'well, no one is ever going to talk to me again.' Everyone ended up laughing and welcoming me," said Gina. "It was at that moment I knew I found a fun, kind group."
Gina attributes much of her success in her professional career to the structure and weekly meetings of Delta Zeta during her collegiate years. "I was learning minutes, agendas and how formal meetings were run. In college, there was no class that prepared me for those things. Because I had that training through Delta Zeta, I was able to understand how the local government meetings worked and was able to get involved because I already knew the basic workings. Without that, I would guess that I would have taken an extra year or two to get where I am now. I did not grasp how important those things were at the time and didn't think they would prepare me as much as they did. Now I'm extremely grateful for every aspect of the organization, even the things I didn't find fun or eventful at the time."
Gina obtained her bachelor's degree in neuroscience in 2018 and began working for her family's digital marketing business, Higher Images, Inc., as a Search Engine Optimization Specialist. "While she may have joined her family's business, she was not given special treatment and earned her way up in the company starting as a janitor in her high school years."
She is now the Vice President of Technology, Virtual Marketing Officer. Higher Images, Inc. works with all different types of businesses, small and large, to offer aid with SEO, Social Media Marketing, Website Design and more. Gina notes that her favorite part about her job is working with local businesses and meeting new people while learning new things.
Her main job is helping clients figure out strategies to help grow their businesses and manage campaigns to support companies on a local and national level.
Now, heading into her next adventure, Gina was elected president of the Shade Tree Commission, which plays an important role in community management of trees and natural resources, this past January. She looks forward to working closely with both her business and local borough committees on projects to benefit the environment.
"It's been a lot of work, but I am extremely excited to help work on local projects, such as getting our community certified by the National Wildlife Federation, tree plantings and more," said Gina. "The best part is I am working as a representative of my company, so I am bringing my work, volunteer and personal life together to better our community."
Through her work at her family's business and now working to give back to her community, Gina exemplifies what it means to be a Delta Zeta sister. As she continues on her professional career and a new journey, we are sure she will continue to exemplify our values and positively impact everyone she meets.