Women in STEAM: Tori Suslovitch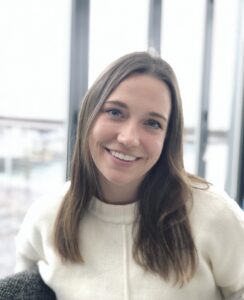 By Abby Hanlon, Delta Upsilon-Marshall University
March is Women's History Month, and we are highlighting Delta Zeta sisters in STEAM- science, technology, engineering, arts and math. Tori Suslovitch, Delta Beta-Tampa (FL), is a licensed genetic counselor in the Yu Lab at Boston Children's Hospital. She graduated from the University of Tampa with a bachelor's in Biology and a master's in Genetic Counseling from the Boston University School of Medicine.
Can you share a little bit about your educational experiences?
I had always wanted to study biology. I'm not entirely sure where that came from. I have always been interested in it, so I knew I wanted to do something related to biology, but I was looking for a career where I could also work with people. I thought about science education and public health for a while. I took an immunology class as a senior in college. We had exercises where we would get a case explaining a patient with immunological symptoms and eventually a genetic disease related to the immune system where we would have to do the background research, think about how we would explain that to say, the parent of that child or that patient themselves. As we went through this, I found it interesting and could see how it would be helpful for the person on the other end of that conversation. I started talking to my professor more and she said, "Oh, there's a word for that. It's called genetic counseling." She told me more about it. That was a really exciting moment. It seemed like a really good combination of cutting edge, new scientific discovery and really in-depth scientific information, but then also working with people in a really intimate way as well. It was just what I was looking for in a career. As I dug into it further, it just got more and more exciting and really interesting, like ethical questions that you could tackle with prenatal screening or genetic testing for risk for cancer and things like that. It kind of aligned with a lot of the life experiences that I had so far. I had a sister who had a genetic disease herself, so it just aligned nicely with what I was interested in academically and with a lot of things that I wanted to fulfill in a career.
What does a research genetic counselor do?
Most genetic counselors work in a clinical setting meeting with patients, talking about potential genetic testing or other testing, working through any of the logistical/emotional processes for that, and deciding if genetic testing is right for them and their family at that time. I work for a research study that everyone we work with already has a genetic diagnosis. Our lab attempts to make therapies for children with rare neurological diseases, and the genetic counseling comes in where these diseases are genetic, and the therapies are genetically targeted. I use my genetic counseling skills of going through research informed consent and helping the families with their needs by emotionally, logistically, and educationally helping them navigate through the research process and aspects of the health care system.
What is your favorite part of your job?
I would say the best things about my job are our families that we get to work with that are going through some really, really difficult times in their life with their children, having really severe diagnoses and going through these challenging experiences. To see families go through that, and the creative ways that they find solutions to problems in their life is an honor to witness. In some ways, it's not my favorite, because it can be really emotional and really difficult. On a similar note, all the scientists, researchers, and clinicians that we work with are equally as motivated and really intelligent and creative and getting to witness their work and communicate that work to others is beautiful and exciting as well.
Walk us through a typical workday.
In any given week, we have meetings to review all the data for the projects that we work on. We think about how we will communicate the information to the patients and their family members. I'll also have calls with families to talk about any progress on the projects that we're working on, setting expectations, and managing those expectations, and just answering any questions that they have. Our lab also gets a lot of email inquiries from families, from clinicians and from patient advocacy organizations. We try to respond to all of those and either figure out if a research program is kind of a good fit for them or if there's another program that we can recommend to them or other resources that we can find that might be helpful and meaningful to them. We also do a lot of like writing and grant writing.
What has been a challenge that you have had to overcome in your career?
When I applied to genetic counseling school, I had done well in my undergrad program, abroad at Oxford and worked in public health for a little while. I had a lot of good experiences and should have felt confident in myself, but at the time that I got into school, I was on the waitlist for my program for just a few days. Being waitlisted, combined with how brilliant my classmates were, made me insecure. I felt like I didn't deserve to be there. It took me a little while to build up my confidence, that I truly deserved to be there and had things to contribute. It took a few months to go through our exams and go through the tests that we were going to do to be able to build up my confidence, that I have to be here and will be successful in this. I think that's just an important lesson for women. I think that we can kind of fall victim to the sense of 'I don't deserve to be here.' I think it is almost a normal part of the process, but that is definitely a hurdle that I overcame.
You mentioned you studied abroad, what was your favorite part of that experience?
The study abroad program I did was through the University of Tampa, where I went to undergrad, and they have a program where they send three students to Oxford every semester on a coordinated study abroad program. I applied once in my junior year and wasn't accepted. Then, I applied again for my senior year and was accepted. The people that I met during that study abroad program, I am still really close with. They were really pivotal in my life. It was just really excellent. One thing that I learned during that study abroad program was that it was one of the first times I really became interested in public health. The classes and the tutorials that I was taking were public health and anthropology focused, so what I learned in that public health setting there has been important to apply to other aspects of my career. You can take those public health concepts and apply them to anything that you're working at. Of course, as clinicians, your priority is to be there for the patient in front of you and be there for your patients and your clients, but then there's also a way where you can help patients and clients by thinking about the more systemic things that might impact their health or their access to health care. In genetics, I would say it's essential, especially since a lot of the genetic technologies are quite new, so sometimes the system hasn't quite navigated yet how to maximize access to those things. I am happy I had that public health experience because it helped me look at some things with a broader lens.