The power of sisterhood and connections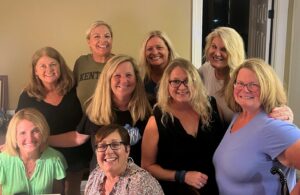 By Robin White Underwood, Xi Beta-Eastern Kentucky
In late spring of this year, our sister Michelle passed away due to a rare brain tumor. She was the sweetest, kindest person I knew. When her DZ sisters found out that she was ill, the text chains and messages began to spread. 
At her funeral, we connected. We told stories, we laughed, we cried and talked about many things that brought us back to our Xi Beta sisterhood at Eastern Kentucky University.
We can all say we have busy lives with careers, kids, families and many other obligations. The truth is we needed a little push to make connection happen. Since then, we have gotten together for dinners and girl's weekends and are planning many more. I didn't realize what I needed in my life again was to feel friendship, love and support.
Michelle was known for her smile and her amazing way of making you feel like you were the most important person in the room when you were talking to her. Somehow, I feel when my DZ sisters and I are together that, she is smiling down on us because it ultimately brought us all back together.
If I could end with one request to all Delta Zeta sisters, make the phone call, send the text to check on each other, go on the trips, and plan the girl's weekend! Please don't wait for the funerals.