Building Sisterhood in South Carolina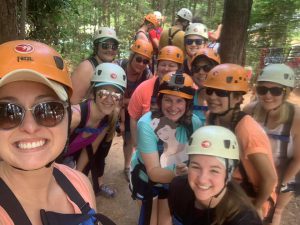 South Carolina State Alumnae Chairman, Summer Harris, Beta Delta – South Carolina, planned quite an amazing first State Adventure Day. It was full of fun adventures and time spent with sisters in a way that catered to everyone's desires. They celebrated sisterhood while offering different types of adventures to meet different interests, activity levels and ages. The group looked for activities that were either mostly outdoors or had established and proven safety protocols.  
The South Carolina Alumnae are also building a social media presence that highlights the fun they have. And so, "Flat Alfa" was created. Members request a Flat Alfa, take her on their vacations, and tag state social media accounts in their posts to share Flat Alfa's adventures. Naturally, it only made sense for Flat Alfa to join State Adventure Day!