Finding Community with Philanthropy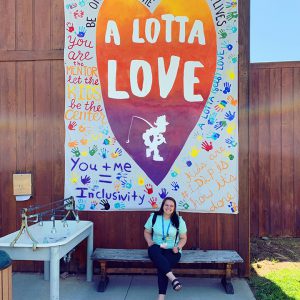 "When I joined Delta Zeta back in 2015, and heard about the Painted Turtle, I fell in love. I knew I wanted to be able to visit and give my all to this camp, and these campers, one day. But I was always too nervous to do so. In 2018, after my junior year of college, I finally took that leap and applied as a counselor. Luckily for me I got accepted and had the chance to volunteer at such a magical place. As soon as I stepped through the gates, I was in awe. I fell in love and knew I wanted to come back as soon as I left. And I have.
I got the opportunity to give my time and love to this camp again this summer, and I fell in love with this camp even more. My first-year volunteering, I got the pleasure of working with the middle-aged campers in the Yellow Bale, and this time I got the opportunity to work with the Leadership Campers in the Blue Bale. Camp is set up into four different bales all with a different age group. Red is the youngest, Yellow is the middle age, Green is the oldest, and Blue this year was used for the Leadership Campers. Leadership campers are campers who are aging out of camp but get the opportunity to come back and focus and learn more about leadership roles to get them ready for that counselor role.
When I first found out I would be a counselor in the Blue Bale I was really nervous because these campers have been coming to camp for years and know so much, while I've only been to camp twice. But they taught me so much not only about what this place means, but also a lot about myself as a person. I was able to see these campers begin to grow into the amazing counselors I know they are going to be, but at the same time watch them still be kids." Kayla Mumford – Iota Xi-Missouri/St. Louis