Empowered to be Me
August 20, 2020
by Katie Mitchell, Kappa Beta – Northern Kentucky University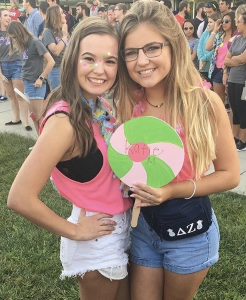 Growing up in a small town in Kentucky, I was the cry-baby in the class. Being "too emotional" or "too talkative," I was told I was "too much". When I moved away to go to college, it was a new beginning for me and a time for people to love me for who I was. My name is Katie Mitchell, and I am a senior at the Kappa Beta Chapter of Delta Zeta at Northern Kentucky University. One of the most impactful aspects of Delta Zeta is I have never felt as if I was too much for my sisters. No matter what I have going on, how passionate I am about a project, my sisters love me for it. While being in Delta Zeta, I have grown to be a leader. I have always felt that I have demonstrated leadership qualities, like being able to speak in public or hold the attention of others. In Delta Zeta, I have held chair positions, starting as early as freshman year, with dreams of one day becoming president, even though I never told anyone that. 
During my sophomore year, one of my close friends committed suicide, and it was a reset of who I was and why I was a member of a sorority. That year made me understand the true meaning of sisterhood.  
I took a step back and reevaluated what it meant to be a sister. It wasn't to hold titles but to be there when someone needed help, to send that encouraging text and to show vulnerability. That year, I learned how to use my talents to grow in different aspects of the chapter. I wanted to go into special event management and had a passion for event planning and hospitality. Last fall, I was able to assist in the design and setup of our philanthropy event. This made me feel more connected to our partnership with the Starkey Hearing Foundation and like I was making a difference in the world. I also volunteered to design our Preference Ceremony, and this made me fall more in love with the symbolic meaning of our rituals and later pushed me to become our Ritual Chairman. Just by taking the time to help make banners for different events, I could grow in my sisterhood and friendships by connecting to women I would not get to spend as much time with otherwise. 
When elections came around this past year, I told my friends to not let me do anything crazy like run for President. I realized I would be letting my freshman–self down and was holding myself back if I didn't at least try to run. I thought of my late friend, and how delicate life really is, and it made me think that if my sisters saw me as a President, I would be the best I could be;  if they saw me in another position, I was okay with that too. I spoke to each of the Presidents, I had seen while being in the chapter, for guidance.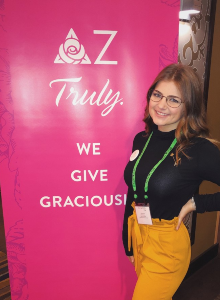 I felt so confident going into elections. This would be the part of the story where I'm supposed to say I was elected. I can remember everything about the election meeting. We had to revote, and it was between me and one of my pledge sisters. When our current Chapter President was announced, and it wasn't my name called, I would be lying if I said I wasn't disappointed, but there was a sense of respect I felt from the chapter. Not being elected was a blessing though, because with the confidence of getting runner-up I applied for the Development and Special Events internship with the Delta Zeta Foundation. This internship was a dream for me! To be able to intern for the Foundation that provides opportunities for the sisterhood I'm a part of and being able to work in special events is amazing. I have gotten to see the Sorority at a national level and really understand that this is bigger than me and my chapter.  
COVID-19 has kind of thrown a wrench in the plans for the coming year, but my confidence in our organization is the highest it has ever been. Our shared value that I connect with the most is empowerment. Feeling empowered to step outside my comfort zone. Feeling empowered to use my voice to stand up for what is right. To feel empowered to be me, which is not too much, but just enough.
Want to share your DZ Journey? Email your story to [email protected].