Delta Zeta Announces 35 Under 35 Honorees for 2020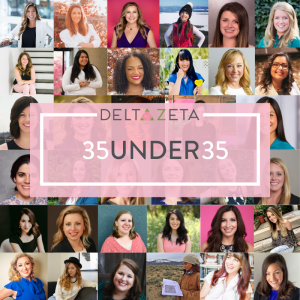 (Oxford, Ohio) Launched in 2018, Delta Zeta's 35 Under 35 recognition program highlights outstanding young professionals who have achieved success by making a significant impact in their industry before the age of 35. Candidates of this national recognition are members who have demonstrated leadership, initiative and dedication to their careers, are motivated by challenges, serve as volunteers in their communities and are role models for their peers.

The following members have been selected as this year's recipients of this recognition:
Jessica Melissa Barron
Delta Alpha Chapter, California State University/Long Beach
Pediatric Speech-Language Pathologist, Loma Linda University Children's Hospital
Ally Johnson Bayard
Sigma Chapter, Louisiana State University
Founder, Sparenting LLC
School Counselor, St. James Episcopal Day School
Katie Bivens
Alpha Gamma Chapter, University of Alabama
Strategic Relationships Coordinator, Ramsey Solutions
Morgan M. Bonekovic, Esq.
Zeta Phi Chapter, Slippery Rock University
Associate Attorney, Akman & Associates, LLC
Kaylee Moreno Burke
Zeta Nu Chapter, Ferris State University
Executive Director & Co-Founder, Center for Latin@ Studies at Ferris State University
Sarah Buxbaum
Gamma Omicron Chapter, San Diego State University
Founder & CEO, Celebrate with Sarah & CWS Hospitality
Valerie Lisette Cobos
Omicron Alpha Chapter, St. Mary's University
Senior Organizational Change Facilitator and Administrative Officer, Frost –Banking, Investments, Insurance
Jessica Marlene Corral, BSN, RN, PHN
Delta Alpha Chapter, California State  University/Long Beach
Registered Nurse, Enloe Medical Center
Karissa L. Cryer, DO
Lambda Xi Chapter, Texas A&M University
Staff OB/GYN Physician, Offutt Air Force Base
Associate Faculty, University of Nebraska Medical Center
Claire Drom
Lambda Theta Chapter, Michigan Technological University
Physician Fellow, Medical College of Wisconsin
Christina Dunbar
Gamma Lambda Chapter, San Jose State University
Community Care Coordinator, L'Arche Internationale – Portland, OR
Rebekah S. Gardner Fincher
Epsilon Xi Chapter, University of Central Arkansas
Chief Administrative Officer, Conway Regional Health System
Jeanette Flores
Theta Rho Chapter, California State University/Los Angeles
Vice President, HRY Personnel Services
Danielle Marie Gumina
Pi Theta Chapter, Rollins College
Fashion Buyer / Designer & Entrepreneur, Fashionphile
Lindsey Hawkins
Lambda Sigma Chapter, Winthrop University
English Department Coordinator and English Teacher, Colegio Dominicano
Alexandra Bittel Head
Beta Gamma Chapter, University of Louisville
Vice President, Wealth Management Advisor, Merrill Lynch Wealth Management
Blanca Herrera, P.E.
Theta Rho Chapter, California State University/Los Angeles
Civil Engineer Associate, Los Angeles Department of Water and Power
Dr. Allison M. Hunter, MD
Beta Gamma Chapter, University of Louisville
Hand & Upper Extremity Fellow, Philadelphia Hand to Shoulder Center
Allie Johnston
Kappa Tau Chapter, Morehead State University
Family Services Manager, Neighborhood House
Andrea Judd-Shurmur
Epsilon Sigma Chapter, Wayne State University
Director, Learning Services, Council of Michigan Foundations
Jessica Kelly
Lambda Sigma Chapter, Winthrop University
Founder & CEO, THR3EFOLD
Lyndsay Bradley Kerr
Lambda Xi Chapter, Texas A&M University
Analytics Delivery Lead, General Motors
Kristen Martin
Pi Zeta Chapter, Arizona State University
Author and Creative Entrepreneur, Self-Employed/Entrepreneur
Michelle Pence Myers
Epsilon Nu Chapter, Missouri State University
General Counsel & Chief Compliance Officer, Cultivation Capital
Janet T. Phan
Kappa Chapter, University of Washington
EMEA (Europe Middle East Africa) Technology Program Leader, PwC
Founder and Executive Director, Thriving Elements
Amanda Potasznik, Ph.D.
Iota Psi Chapter, University of Texas/Arlington
Lecturer, University of Massachusetts, Boston
Colleen Pulsford
Epsilon Delta Chapter, Concord University
Senior Business Development Associate – GIS Specialist, Emerus
Corinne Saliba
Gamma Alpha Chapter, Baldwin Wallace University
HR Consultant, The Ahola Corporation
Elizabeth "Liz" Petrun Sayers
Alpha Theta Chapter, University of Kentucky
Social Scientist, U.S. Food and Drug Administration's Center for Tobacco Products, Office of Health Communication and Education
Caitlin S. Shea
Rho Chapter, University of Denver
Director of Development, DISCOVERY Children's Museum
Taylor Ridenour Sminchak
Gamma Kappa Chapter, Kent State University
Coordinator of Outreach for ZipAssist, University of Akron
Sarah Beth Thornton
Lambda Kappa Chapter, University of Alabama/Huntsville
Business Developer, Retail Strategies
Kelley Marie Ward
Omicron Gamma Chapter, Ohio University
Owner, A' La Carte Events
Allison Brown Wilkinson
Lambda Pi Chapter, Georgia College & State University
Director of Payroll Services, Georgia College & State University
Tyler Young Williams
Epsilon Xi Chapter, University of Central Arkansas
Deputy Prosecuting Attorney, Benton County Prosecuting Attorney's Office
Learn more about our 2020 recipients on our 35 Under 35 home page. Additionally, watch for full coverage of these truly amazing members in the Fall issue of The LAMP magazine and on social media throughout the fall.
Delta Zeta Sorority is a global women's organization whose shared values support a vision to truly inspire action and impact lives through leadership, service and philanthropy. Founded on Miami University's campus in Oxford, Ohio in 1902, the Sorority has more than 275,000 alumnae and collegiate members in the United States and Canada. The Delta Zeta Foundation, a non-profit organization, makes possible gifts and support for scholarships, leadership, philanthropy and education. Learn more about our mission at deltazeta.org. For more information about the Delta Zeta Foundation, visit www.deltazeta.org/foundation.
For further information, please contact Cindy Menges, Executive Director, at press@deltazeta.org.