Belonging to Myself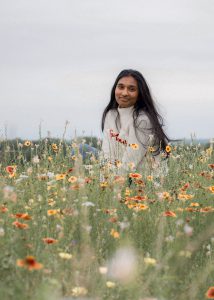 June 18, 2020
by Manasi Anbarasan, Pi Sigma-Texas/Dallas
I have always been proud of my ability to adapt. Moving to the United States from India at age 7 pushed me into a transformation I could've never anticipated. It had cemented a need at my core to be accepted by those around me at any cost. I adopted an American accent, so my classmates would invite me to sit with them. My teachers' frustration with grading my work pushed me to learn to write in print instead of cursive. I dreaded being an out of place inconvenience. When I went through formal recruitment my sophomore year of college, I felt that need dissipate around Delta Zetas. My name is Manasi Anbarasan and I am a Delta Zeta from the Pi Sigma chapter at the University of Texas at Dallas.
My senior year begins in August of 2020 and my only regret these past four years is not having joined my freshman year. I live eight miles away and commute to campus every weekday. My freshman year was spent marinating in a sea of self-pity and feeling robbed of a traditional college experience.  I would attend my lectures and immediately head home afterwards. I knew a lot of the incoming freshman class because they attended my high school, but my closest friends moved away. College felt exactly like high school but with the people I didn't particularly like and a longer commute. I chose to enter formal recruitment my sophomore year at UT Dallas to meet new people and be a part of my campus. Delta Zeta turned a bleak world of classes and car rides into one of color. I found a safe space full of motivated women from rich backgrounds completely different from mine and some very similar. I found a home within a campus I didn't live in.
I'm very fond of recording my life whether it's through journaling, photography, or vlogging. In my senior year of high school, I had entered a period of melancholy where weeks would pass, and I would not remember them. That prompted me to start a project where I would take a picture every single day the entire year of 2017 and post it on Instagram. To not only remember the year, but to remember that I lived through them. The year 2017 contained my final semester in high school and my first semester at UT Dallas. Taking pictures everyday felt like a chore. I didn't enjoy the life I was living and documenting it somehow made that despair almost tangible. I had made my project public, so my friends held me accountable. They reminded me of my project on days when I forgot to post and took pictures for me when we were together. In some ways I felt I was betraying these supportive high school friends by trying to make new ones through Greek life. To my surprise, they encouraged me to join a sorority and enrich my college experience.
One of my first friends in Pi Sigma was Hannah Peterson; she is a photographer who took French classes simply because she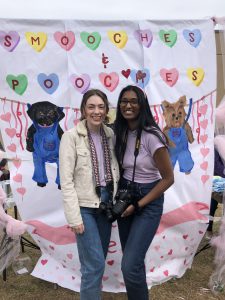 wanted to. She is fearless and yearned to hold tender moments forever the same way I did. Meeting Hannah had inspired me to start taking pictures of times I was genuinely happy. It was a feeling I had forgotten and felt euphoric in rediscovering. To want to remember your life because you enjoyed it is a sensation I will never take for granted again. When Hannah transferred to a different university, and I had to open my heart to even more of my sisters, I realized that I belonged just as I was. By belonging in Pi Sigma, I learned how important it is to belong to myself. I learned to let go of other people's expectations of me and do what I wanted simply because I wanted to. I stayed up longer, and drove father, so I could laugh harder and be closer to people I grew to love immensely.
The Pi Sigma Chapter is only five years old, and I hope for it to grow while staying true to its compassionate nature. It's easy to lose sight of quality while in pursuit of quantity. Pi Sigma should stay a place where young women can grow into their full potential with the unconditional support of their sisters. My chapter was built on a foundation of trust and sisterly love and I have no doubt it will grow its roots deeper into UT Dallas with those same principles.
Want to share your DZ Journey? Email your story to [email protected].